In beautiful sunshine, the topping out was celebrated for quite a special structure: the HAVEL-SPEICHER complements the distinctive ensemble of three historic warehouse buildings opposite the island of Eiswerder. The construction of the HAVEL-SPEICHER development has it all – and helps conserve resources.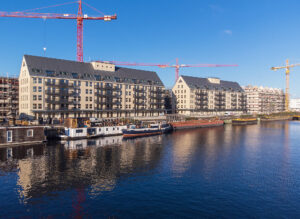 BUWOG SPEICHERBALLETT is growing site by site  – and will continue to do so until 2026. Directly on the banks of the Havel, the three striking warehouse buildings are a landmark of the district. While the two listed warehouses to the south have been refurbished and handed over to the new residents, the northern, windowless warehouse has been demolished in agreement with the Monument Authority. It is currently being rebuilt in its historic footprint on a floor slab that is around 100 years old – an important contribution to the recycling of sustainable raw materials.
BUWOG project manager Nora Rasch: "The preservation of historical buildings protects monuments and contributes to the sustainable use of resources and building materials. The HAVEL-SPEICHER's construction on the existing floor slab of the original warehouse is another example of resource conservation."
The builders and developers celebrated the accident-free work and the excellent progress of construction with a topping out. With barbecued chicken, lovely sunshine and a waterfront view, they recharged for the months to come: completion is anticipated in 2023 and the newly built 46 apartments can be moved into.
New residential space – and plenty of surrounding residential qualities
Things are also moving forward south of the reservoirs for which the development is named: construction of the BUWOG HAVELKIESEL development will be completed by summer 2022. The rooftops of these partially rounded buildings are equipped with photovoltaics, while rainwater is stored and can be used for garden irrigation and flushing toilets. On the construction site west of the warehouses, the number of buildings for rentals is increasing at present: a total of 262 one- to four-room rental apartments are being constructed there in six buildings, with completion expected in summer 2023. Three quarters of the flats will be barrier-free.
The BUWOG SPEICHERBALLETT development also includes a daycare centre and playgrounds. A wild meadow to promote biodiversity and recreational areas for residents are also planned. There will also be a café, which means people in or visiting the development and strolling along the banks of the Havel can spontaneously enjoy a drink or have a small snack.
---
"The preservation of historical buildings protects monuments and contributes to the sustainable use of resources and building materials."
---
This could also be interesting: