The cranes are in operation in Schönefeld, directly next to the town hall: BUWOG NEUE MITTE SCHÖNEFELD is being constructed here, a development with around 330 condominiums. In terms of sustainability, there is now a special achievement to report: the amount of steel used has been reduced by an entire 581 tonnes. An interview with Dirk Nitsche, who is overseeing the project as technical project manager.
Steel, concrete, cement, thousands of kilometres of delivery routes and plenty of energy consumed by construction machinery: all of this is the so-called "grey energy" that has to be used in the construction of residential buildings. This means that ample CO2 is emitted in the buildings even before the first residents move in. Thus it is all the more important to plan efficiently, reduce the amount of materials used and thereby improve the climate footprint of residential buildings. BUWOG is particularly committed to this.
In the new BUWOG NEUE MITTE SCHÖNEFELD project, the amount of reinforcing steel used has been reduced by 581 tonnes. What's important to know: The production of one tonne of reinforcing steel in this country generates an average of around 1.5 to 2.0 tonnes of CO2. A reduction of 581 tonnes of reinforcing steel on the construction site is equal to a reduction of about 1,000 tonnes of CO2. Dirk Nitsche, technical project manager at BUWOG, explains how this works in an interview.
---
"Sustainability is becoming increasingly important in new construction, and it has to start with the initial planning."
Mr Nitsche, with BUWOG's NEUE MITTE SCHÖNEFELD project you achieved a reduction of 581 tonnes of reinforced steel. How exactly does that work?
"To reduce the amount of reinforcing steel, we had to optimise in various ways, the most important of which I'd like to call attention to. In the two lower levels, which were constructed as a white tank, it was possible to reduce a considerable amount of reinforcement by using semi-precast exterior walls instead of in-situ concrete walls. When using in-situ concrete walls, there are relatively large constraining stresses not present in the precast work. Thus in conjunction with the sealing plates in all precast joints, it was possible to considerably reduce the horizontal reinforcement of the walls. This also reduces the amount of reinforcement steel used! In the upper floors, it was possible to replace numerous reinforced concrete walls with masonry walls through clever redesign compared to the original structural design planned by the previous owner of the property, which was acquired by BUWOG. Finally, new type B wire mesh matting was used in the reinforced concrete floors instead of the usual matting. There are no superfluous reinforcements in the joint area, which meant it was possible to reduce the total reinforcement required."
A great success. Say, which trades and service providers on the construction site are involved in saving valuable resources on this scale?
"The optimisation of the entire supporting structure that was "bought" with the purchase of the land was carried out by my team and I as part of project management and in very close cooperation with the structural engineering office. Then, of course, the construction company and the prefabrication plant are involved, which have also been great at this and have gone the 'extra mile' with us. As a result, we have not only reduced the amount of material and CO2, but generated savings of around € 600,000, which helps compensate for any additional costs elsewhere, for example due to the current overall increase in the cost of building materials. The result is a combination of ecological and economic sustainability."
In your experience, what other measures can be taken around a construction site in order to act in the most sustainable and resource-saving way?

"Sustainability is becoming increasingly important in new construction and this has to begin with the initial planning, preferably with the lower level! Quite a considerable share of resources is consumed for the lower levels with garages and storage areas. If the project allows, a significant share of resources can be lowered by reducing or eliminating underground parking spaces. I also see significant savings potential for the future in insulation materials. Composite thermal insulation systems commonly used today consume a relatively large amount of resources. Here, the insulation industry is called upon to come up with new innovative solutions to improve not only resource consumption but also recyclability."
---
"As a result, we combine ecological and economic sustainability"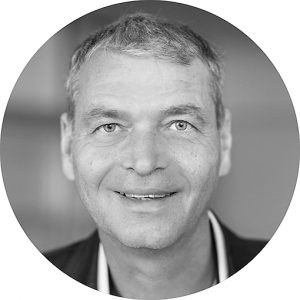 ---