For years, BUWOG has been pursuing a future-oriented approach with a focus on sustainable building and living. This time in our anniversary blog series, we examine on our climate protection targets.
Sustainability is one of the most pressing issues of our time. The real estate industry is also enormously important for climate protection. For example, the building sector accounts for a large part of CO2 emissions. The future of housing should therefore become greener and more climate friendly. Beyond that: sustainable building and living also mean facing social and economic responsibility. BUWOG is setting a good example, having pursued an ambitious sustainability agenda in Germany and Austria for many years.
Less greenhouse gases: environmentally friendly energy supply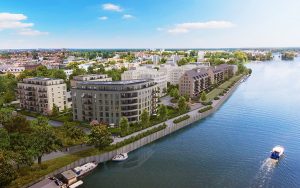 BUWOG is focusing on a wide range of measures to reduce carbon dioxide emissions. By 2023,  our aim is that every third flat in our new construction projects in Germany is supplied with renewable energy. An important contribution to this is the use of numerous rooftop photovoltaic systems, which generate electricity from solar energy. BUWOG now also uses green electricity on some of its construction sites, such as the new BUWOG SPEICHERBALLETT project in Berlin, where the cranes, the largest consumer, are now also powered by green electricity.
Another example of an efficient and climate-friendly energy supply is the local heating grid in Berlin's 52° Nord development, where BUWOG has built a modern energy centre. Through cogeneration, compact combined heat and power units simultaneously generate electricity and heat directly on site. This lowers fuel requirements and reduces CO2 emissions. By comparison, a still rarely used renewable energy source is geothermal energy, as used in Vienna's new housing project BUWOG MARINA TOWER. There, the almost constant temperature of approximately ten degrees Celsius in the layer of earth up to 100 metres deep is used as an energy source.
Subsidisation of electromobility
Smart mobility concepts for climate-neutral transport: to ensure residents can make easy use of alternatives to their own cars, BUWOG's is focused on good connections to the public transport network in neighbourhood developments and on providing sufficient bicycle parking. Particularly exemplary: in the sustainable showcase project BUWOG ERnteLAA in Vienna's 23rd district, every household even receives an annual pass for Vienna's local public transport system when they first move in. BUWOG is also promoting the switch from combustion-powered cars to electric vehicles by increasing the number of parking spaces with charging stations; we currently have 25 percent of all parking spaces in Germany pre-fitted for this purpose.
Resource conservation: building sustainably
Ecological and economic sustainability begins with the selection of building materials. We make sure we source sustainable raw materials from the region wherever possible and where it makes sense. This reduces CO2 emissions through shorter delivery routes and secures local jobs. These can be building materials made from particularly durable or recycled materials, for example, recycled concrete, recycled aluminium, biological insulation materials made of shells, plant residues or sawdust.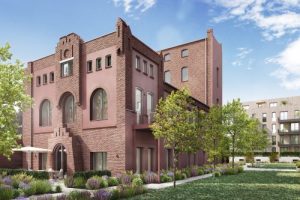 Furthermore, the real estate industry is again focusing increasingly on the renewable raw material wood. Wood or wood-hybrid buildings have a better climate footprint than residential buildings made exclusively of concrete, steel and cement. BUWOG has had great experience with this, for example with the BUWOG KOMPASSHAUS buildings in the 52° Nord development in Berlin-Grünau and in Vienna's Baranygasse in the 22nd district.
And last but not least, the preservation of historic buildings and their conversion into housing, as in the two Berlin-based projects BUWOG SPEICHERBALLETT and BUWOG HELLING HOF, contributes to the sustainable use of resources and building materials.
Social sustainability: housing for every generation
In neighbourhood development, BUWOG also focuses on good neighbourly interaction. This means open, friendly neighbourhoods with as little traffic as possible and a high quality of life and recreation – for every generation. Low-barrier and barrier-free flats with varying floor plans and sizes are just as much a part of this as are accessible green spaces, playgrounds and recreational areas. In a large number of new construction projects, we also provide our own daycare centres. At BUWOG SPEICHERBALLETT, a building specially designed for senior citizens is also planned, in addition to a daycare centre that is also open to people who do not live in the development.
Biodiversity in the developments
One of our aims in housing projects and neighbourhood developments is to act sustainably with regard to biodiversity. For example, a large number of unused rooftops are extensively greened with robust, water-retaining plants. They not only improve the urban climate, but also provide additional habitat for insects and birds and store rainwater and return it to the natural water cycle. A positive side effect: evaporation provides pleasant cooling on hot days.
We have gone one step further with our sustainable Viennese residential project ERnteLAA. In addition to large flower beds and green façades, there are additional, intensively planted rooftop gardens open to general use.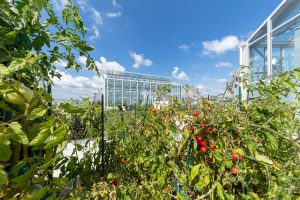 Maximum greenery rather than soil sealing: this is good for the climate and biodiversity, and it creates infiltration areas for rainwater. In BUWOG's development 52° Nord in Berlin, in addition to the green areas, we have developed a 6,000 sqm planted water basin which, based on the sponge city model, collects the rainwater from the surrounding properties, cleanses it biologically and returns it to the natural water cycle. This rainwater retention basin also serves as a biotope for aquatic animals and insects. In 2020, the project won, among other things, the German Housing Award, which was presented by the Federal Foundation for Baukultur.
Climate protection targets at BUWOG locations as well
BUWOG is not only implementing ecological sustainability in new residential construction, but also pursuing ambitious climate protection targets at the individual company locations in Germany and Austria. BUWOG has an energy management system certified in accordance with ISO 50001 and is the only real estate company in Austria to be a partner in the klima:aktiv pact. This summer, BUWOG placed honeybees on the rooftop terrace of its Vienna headquarters. The Berlin location plans to follow suit next year.
BUWOG's commitment has not gone unnoticed, with numerous construction projects having won awards in recent years: for example, the Berlin 52° Nord development was awarded the prestigious ICONIC AWARD 2020; in Vienna, the showcase project KENNEDY GARDEN received the "Greenpass" certificate and won the European Property Award; and in June of this year, BUWOG won the German Brand Award for "Sustainable Brand of the Year", among other categories.
On its 70th anniversary, BUWOG is looking towards a sustainable, climate-friendly and liveable future of housing. There is still plenty to do. Let's get to it!