Sustainable new build: Wood is becoming an increasingly important material in real estate construction – at BUWOG as well. We talk to project manager Steffen Keinert.
Wood is "in", and for good reason: compared to numerous conventional building materials such as steel, concrete, cement, etc., wood's climate balance is more favourable. After all, the natural material stores large amounts of CO2 from the atmosphere during its formation. Most of the time, wood can also be grown and extracted locally, which shortens delivery routes and improves the climate footprint further. These are just a few reasons why BUWOG is also focusing more and more on multi-family buildings made of wood as part of its sustainable neighbourhood developments.
With the wood-hybrid method, for example, this technology is being consistently developed together with specialist companies and industrial partners and is, of course, oriented to the future residents' needs, as can be seen in the example of the BUWOG KOMPASSHAUS buildings in the 52° Nord quarter in Berlin-Grünau, which will be completed in 2020. As a result of the positive experiences with the wood-hybrid method used here – and thanks to the considerable level of acceptance among customers! – a neighbouring site was planned using the same technology. It is now undergoing construction: with the BUWOG LOTSENHAUS project, another 40 or so family apartments are currently being constructed based on the energy-saving KfW 40 standard.
What makes wood construction stand out – and where do the hurdles lie? An interview with Steffen Keinert, who as technical project manager at BUWOG in Berlin is responsible for various major new construction projects for the company and is further developing wood construction as part of the sustainability team.
---
Interview
"Wood construction is better than its reputation!"
Mr Keinert, you're driving the progress of wood construction at BUWOG. What makes the wood construction method stand out?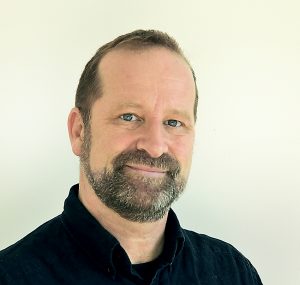 Steffen Keinert: "Three things make wood construction so special: First, wood as a building material is renewable, that is, continually available. Wood stores large amounts of carbon dioxide and is therefore climate neutral. And people intuitively "understand" wood as a natural building material; visible wood components in buildings generally convey a pleasant feeling to both residents and visitors. All three of these are important reasons why we at BUWOG are focusing on it."
 For builders and property owners, the economic dimension also plays a role, of course. So let's talk about costs: How do wood and wood-hybrid methods fare?
Steffen Keinert: "With a view to costs, wood construction is better than its reputation. We've investigated this in-depth. The pure construction of a wood building costs 10 percent to 12 percent more than a conventional solid building with ETICS (external thermal insulation composite systems, editor's note). All other costs for planners, building services and outdoor facilities as well as the price of the land, of course, do not change. Another positive aspect: because wood construction can normally be done with exterior walls that are thinner than in solid construction, there is a gain in space, which means more floor area! So all in all, the additional costs for a wood building are only about five percent. That's worth it for the future of our children, isn't it?"
Then why is there comparatively little being built using wood?
Steffen Keinert: "With single-family homes, the share of wood buildings is already comparatively high today – think "Swedish house". In multi-storey housing, on the other hand, there are scarcely any projects that have been carried out so far, so there is a diffuse mix of biases and half-truths. The most common biases are: "A wood building burns down easily"; "A wood building like this won't last very long"; "Wood construction is too expensive"; or "Is a wooden building like this even watertight?" As BUWOG, we have to consistently work at raising awareness to dispel such doubts and make the technical advantages transparent. A special feature of modern wood construction is the high degree of prefabrication of entire components, which goes hand in hand with a more intensive planning phase. In the construction phase, however, this saves a considerable amount of time because the prefabricated elements are simply assembled – like a construction kit for adults! An additional advantage is the nearly waterless construction, as neither concrete nor plaster are used. This also eliminates drying times in the construction process, and when the residents move in, there is no construction-related moisture of consequence."
BUWOG has now built around 100 family apartments in the wood-hybrid method in Berlin-Grünau. Is it a model for the future?
Steffen Keinert: "The project in Grünau in the 52° Nord quarter is a remarkable step in the right direction. The wood-hybrid building, in which the load-bearing parts, i.e. columns and ceilings, are made of concrete but the exterior walls are made of wood, already has enormous ecological advantages compared to solid construction. However, to also implement the second half of the eco-balance in a climate-neutral way, it is necessary to go even further, at which point a "real" wood building is unavoidable. Revealing their construction method to a certain extent, buildings with a wood façade are quite popular with buyers. I see this as a sign that the importance of ecological construction has caught on in society, which in this respect is a clear affirmation of wood construction as a model for the future."
From your point of view, is Berlin actually more advanced than other cities when it comes to innovative building methods that are particularly energy-saving or sustainable with respect to building materials?
Steffen Keinert: "Berlin has more innovative construction methods to offer than many other German cities thanks to the numerous construction group projects, which are often more ecologically ambitious than the average housing. The front-runner, however, is still Freiburg, which as a green-governed university city has the highest density of innovative and sustainable housing. As BUWOG, we're interested in being at the forefront of commercial housing with contemporary and innovative projects, and I've picked up on this in numerous conversations with colleagues. In this context, paying a visit to best-practice examples is an important element in order to regularly see what else is out there and to gather suggestions and learn something new for one's own projects. That's why we always visit exemplary buildings in Berlin, for example, a seven-storey wood building by SWP-Architekten on Lynarstraße and a passive building in the wood-hybrid method by Deimel Oelschläger Architekten on Boyenstraße. So knowledge is certainly being transferred at BUWOG, and we're curious to have a look at exciting projects by others. Nevertheless, I hope that together we become even better in the future and that we exchange ideas more regularly by presenting our own projects, sharing experiences with certain techniques, or simply being inspired by others' projects."
BUWOG's slogan is "happy living". What does that mean for you – privately speaking?
Steffen Keinert: "I've been lucky enough to live in beautiful buildings and apartments for most of my life, apartments in which the light, layout, materials and views were something to be enjoyed, making them a real home. For me, "enjoying being in your own home" is an expression of "happy living"."
"People intuitively 'understand' wood as a natural building material; visible wood components in buildings convey a pleasant feeling!"

---
Energy management systems (EnMs) in accordance with ISO 50001
On track, sustainably
Whether building with wood, using ecological building materials or implementing efficient and resource-saving building concepts: there is plenty that project development can do to build sustainably.
In development, BUWOG pursues a committed sustainability agenda. With measurable targets and consistent monitoring, it puts the dimensions of ecological, social and economic sustainability into practice. For example, in BUWOG's projects the share of new apartments that use renewable energy will increase to 35 percent by 2023. More than every third apartment will then be supplied with renewable energies.
Another important topic for the future is the promotion of electromobility. BUWOG is creating new on-site charging stations so that people in the neighbourhoods can easily switch to electric cars or electric bikes. At the same time, BUWOG encourages environmental and climate awareness in everyday working life. The result: energy consumption for electricity and heat will be reduced by five percent at the office locations by 2023. By 2021 the use of the company car fleet will already reduce carbon dioxide emissions from business trips to a maximum of 150 g of CO2 per kilometre – or less if everyone in the team cooperates, of course. BUWOG's sustainability goals are checked, controlled and steadily improved through continuous monitoring as part of the certified energy management system (EnMs) in accordance with ISO 50001.
Service
Awarded for sustainability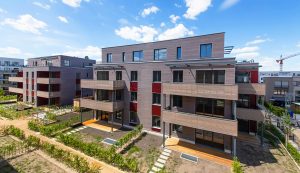 Ecological building materials, a sustainable overall concept and a considerable standard of quality architecturally: in 2020 the 52° Nord quarter won the German Housing Award. This is where the BUWOG LOTSENHAUS project with family apartments is being constructed using the wood-hybrid method. Completion: 2022. More at www.52grad-nord.de
Cluster apartment and passive building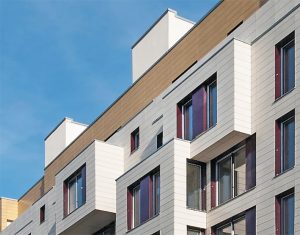 More on the Boyenstraße and Lynarstraße projects at https://blog.buwog.com/auf-den-spuren-der-neuen-nachhaltigkeit/