On the banks of the Dahme in Berlin-Grünau, BUWOG is constructing the sustainable 52° Nord development. The BUWOG HELLING HOF residential ensemble marks a new phase of construction.
In Berlin-Grünau between Regattastraße and the banks of the Dahme, the approximately 100,000 sqm 52° Nord development is being built – a beacon project of BUWOG that will become one of Berlin's biggest architectural housing parks due to its size and the large number of architectural firms involved.
The 52° Nord development: sustainable architectural highlights
Ten hectares of former industrial wasteland are divided into two dozen construction sites, on which around 1,000 new apartments are being built for rent or purchase. The development will also feature a daycare centre, a 600-metre-long lakeside promenade, various green, recreational and playground areas, and a square and café. BUWOG has been building the sustainable 52° Nord development on the site since 2015, a major project with a large number of architectural highlights such as the BUWOG THE VIEW ensemble located directly on the sun-splashed banks of the Dahme.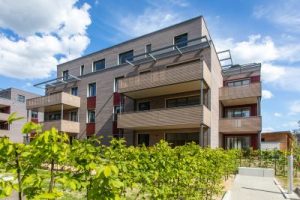 Nearly all of the construction projects in the development feature maritime names, such as SEEFELD, REGATTAHOF, KOMPASSHÄUSER, ANKERVIERTEL – and BUWOG LOTSENHÄUSER, which is being built using a timber hybrid construction method and will be completed before the end of 2022. Wood as a renewable raw material not only ensures a positive ecological footprint, but also provides for optimal insulation.
The ecological centrepiece, however, is a 6,000-square-metre planted water basin that collects rainwater from the surrounding properties based on the sponge city model, cleanses it biologically and returns it to the natural water cycle. In addition, the basin serves as a near-natural biotope for amphibians, birds and insects. In 2020, the project won the German Housing Award from Federal Foundation for Baukultur and others.
Construction of BUWOG HELLING HOF begins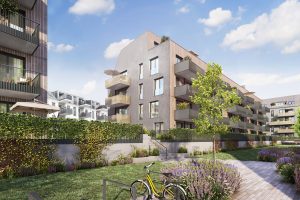 In the southern segment of the 52° Nord development, works are beginning on another site, at which BUWOG HELLING HOF is being constructed – a residential ensemble comprising three attractive new buildings and an historic building. Like nearly every one of the development's phases of construction, the name of the project plays on the maritime theme. "Helling" in German designates the location in a shipyard in which ships are built and later launched.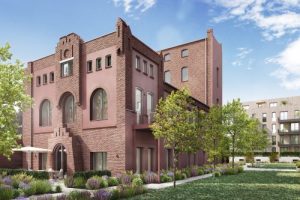 Fitting with this, the existing building, which BUWOG will refurbish, will be called the "Werfthaus", or shipyard house. This architectural highlight is an old brick structure, built around 1900 as part of a brewery and later used as boat storage. In the two-floor, low-rise structure with a four-floor tower, four spacious lofts with floor areas ranging from approximately 91 sqm to 150 sqm and ceiling heights of up to 3.3 metres will be built.
The new buildings and the shipyard house are grouped around a protected and private interior courtyard, whose natural plantings pick up on the water landscape theme. In addition to islands of trees, meadows of wildflowers and various grasses, the open areas will include wooden playground equipment for kids as well as hammocks installed for the long term.
Housing for every generation
BUWOG HELLING HOF is intended to be a place for every generation. The total of 109 condominiums with two to six rooms and floor areas of approximately 50 sqm to 174 sqm provide space for singles, couples and families and, if required, also for a home office. Nearly all of the bright and sunny apartments have a balcony, terrace or private garden facing south. Highlights will include the loft-like penthouse apartments with their spacious sun terraces on staggered flooring. The penthouse apartments in one of the new buildings also feature spacious loggias and ceiling clearances of up to 3.80 metres for a particularly roomy atmosphere.
Greened rooftops, a plus for the climate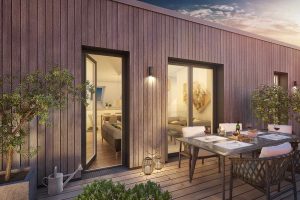 The topic of sustainability will also play an important role in this construction phase: in the two underground garages, around 40 parking spaces are already pre-equipped for the operation of electric charging stations. Constructed in accordance with the energy-efficient KfW 55 standard, the new buildings will also be supplied with heat from the highly efficient combined heat and power method. In addition, the rooftop of one new building is extensively greened. These green rooftops provide habitats for animals and insects, store rainwater and release it back into the environment through evaporation. A positive side effect: evaporation provides pleasant cooling in summer.
Completion of the BUWOG HELLING HOF ensemble is expected in 2023. Sale of the condominiums has already begun. More information at www.52grad-nord.de.