The opening of the new airport BER will bring a large number of new jobs. Urgently needed residential space will soon be created by a new development near the city hall: BUWOG NEUE MITTE SCHÖNEFELD. The topping out has just been celebrated.
With positive economic development, investments in infrastructure and the attractiveness of the municipality, and with the new airport, all signs in Schönefeld point to the future. Directly next to the city hall, a once treeless, barren wasteland is currently being transformed into a new and sustainable residential development. BUWOG is building a total of 333 apartments here in three construction phases by 2023.
Housing for every generation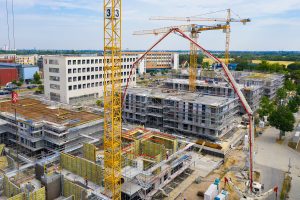 The apartment sizes from 1 to 4 rooms – all equipped with a balcony or terrace – are designed so that different generations and target groups can find a home here: from students to families with more space requirements to older people, for whom barrier-free living is the current or future focus. At the same time, BUWOG is creating an environment that is close to nature. Many newly planted perennials, shrubs and trees – from hornbeam to wild apple – provide for greater biodiversity.
By the way, the cars of the future new residents will disappear into the underground car park. Upon completion, 286 parking spaces will be available there, 52 of them prepared for an electric charging station.
The completed shell was celebrated on 29 September 2021 with the traditional topping-out ceremony, where thanks were also extended to the builders and trades involved on site for their excellent, accident-free work.
If the favourable weather continues, construction will continue over the coming winter months, with windows and doors being installed and interior works finalised.
Film on the topping out
Additional impressions of the topping out for BUWOG NEUE MITTE SCHÖNEFELD can be found here in the latest YouTube film.
---
This could be interesting too:
The 52° Nord development is growing: construction of BUWOG HELLING HOF begins in Berlin-Grünau
Building sustainably: the BUWOG SPEICHERBALLETT residential neighbourhood in Berlin-Spandau
Happy Birthday: 70 years of BUWOG – 70 years of change