From Hamburg to Munich, from Leipzig to Bochum: With regional locations throughout Germany and a development pipeline of around 55,000 apartments under construction and in planning, BUWOG has a strong presence throughout Germany. And so BUWOG, as one of the leading developers, will of course also be represented at the 5th FrankfurtRheinMain baut! congress on July 19, 2023.
How can the industry build and create urgently needed new living space despite the current challenging framework conditions? What political framework conditions are necessary? How can the energy supply in the neighborhoods be ensured even with rising electricity prices? And what financing options make sense for new projects? These and other current topics will be discussed at the congress on Wednesday, July 19, 2023 from 8:30 a.m. to 4:30 p.m. at the Frankfurt Chamber of Commerce and Industry.
Quo vadis, housing construction?
The motto of this year's event is "When will the turbo for residential construction arrive?" BUWOG has a strong presence in the Rhine-Main region with a location in Hanau and is on course for growth. BUWOG will therefore accompany the program with an information stand.
With its current motto, the congress will focus on the urgent need for new living space. Continuing to build in the crisis" will be the central topic of a political panel discussion with Thomas Horn, Director of the FrankfurtRhineMain Regional Association, among others. Two further focus topics will highlight issues of energy and sustainability as well as the current financial market environment.
"Electricity and heat increasingly expensive – how do we solve the energy problem?" This question is answered by a comprehensive focus topic. Among others, Matthias Sommer, Head of Sales Real Estate, Neighborhoods and Networks of ENGIE Germany will speak on this topic.
Hurdles and chances of the current inflation and interest development will be analyzed by Dr. Ingo Wiedemeier, Chairman of the Board of Frankfurter Sparkasse. And so, not least, the congress directs attention to the future and to the opportunities. Because there are also opportunities, especially now!
Event tip: 5th Congress FrankfurtRhineMain builds on 19.07.2023. Information and registration at region-frankfurt.de/FrankfurtRhineMain-builds-.
Partners of the event: BFW Landesverband Freier Immobilien- und Wohnungsunternehmen Hessen/Rheinland-Pfalz/Saarland e.V, Verband der Südwestdeutschen Wohnungswirtschaft e.V and IHK Frankfurt am Main.
3 Questions for Andreas Barth
Andreas Barth is BUWOG's Managing Director for the South-West region.
Mr. Barth, what are the most exciting projects in Rhine-Main that you have in the pipeline?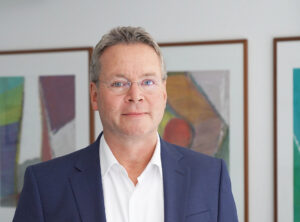 Andreas Barth: "Every project is exciting, because as a developer we always plan and build the best for each location and local needs. When I think of the larger projects in the planning stage, the Main Au Quartier in Hanau on the banks of the River Main naturally comes to mind. Around 1,400 apartments and a good 140 daycare places are expected to be built on an area of 13.9 hectares – a great opportunity for Hanau. Along with the creation of new living space, the Mainufer will be upgraded and given a different experience, and the industrial-cultural history will also be taken up. I'm really looking forward to that!"
What characterizes the Rhine-Main region?
Andreas Barth: "Trade fairs, high culture and banking traditionally characterize the Goethe city of Frankfurt as the pulsating heart of Rhine-Main. In addition, the current networking of the municipalities is an important prerequisite for further development and sustainable external growth: For example, 39 partner municipalities are united in the Great Frankfurt Arc, a pioneering initiative of the State of Hesse to create affordable housing in livable neighborhoods. Consequently, BUWOG projects are also being planned or have already been realized in many places, e.g. BUWOG DAS GRÜNGOLD in Bad Nauheim or BUWOG REBOOT in Wiesbaden-Nordenstadt."
What framework conditions are needed to turbo-charge residential construction?
Andreas Barth: "Faster and simplified approval procedures as well as a better funding landscape – that would also be in the interest of those looking for housing. As a company, BUWOG is ideally positioned for the turbo: with dedicated teams, a clear positioning in new construction and neighborhood development, and in the implementation of a sustainability agenda with which we will also design the housing of the future in an ecologically, economically and socially sustainable manner."
---
"Faster and simplified approval processes, as well as a better funding landscape – that would also be in the interest of those seeking housing."
---
These articles might also interest you: