Architect Anais Cosneau is working as an ombudsperson on a large BUWOG construction project in Weingarten. We gather with her for an interview about effective communication, residents' concerns and transparent real estate companies.
"Those who are able to provide information and build sustainably and architecturally well will always find an open ear with people"
Architect Anais Cosneau is active in many fields: as founder of the women's network Happy Immo Club, a speaker at congresses, a columnist and a management consultant. With STADTDIALOG, she combines architecture and communication, and she organises dialogues with residents during construction. Even when things get a bit loud.
We meet Anais Cosneau at a playground in Munich, where she has just been on assignment at the leading trade fair EXPO REAL. Her partner Simon has joined her from Berlin with their three kids, the family is enjoying the autumn sun, and now there's some time for an interview.
You've just taken up your position as ombudsperson for the Martinshöfe project in Weingarten. How would you describe the task?
Anais Cosneau: "Together with my team from STADTDIALOG, I'm the first point of contact for citizens and can be approached with any questions about this major construction project. This task is an interface function that I've already carried out in similar large-scale projects in southern Germany. It's about bundling concerns, for example from the neighbourhood, researching the necessary information from the developer's project team and, if necessary, mediating."
What's important here? What skills do you actually need?
Anais Cosneau: "You need a very good technical understanding of the construction process. My background as an architect with experience in large urban planning projects at home and abroad helps me in this respect. At the same time, we have to deal with very different people and issues, so you have to adapt quickly to the individuals in order to understand what the purely factual concerns are and what fears or anxieties might also be behind them. Above all, you have to be well structured and transparent, even if the news is unwelcome."
What particular construction-related challenges are there in Weingarten?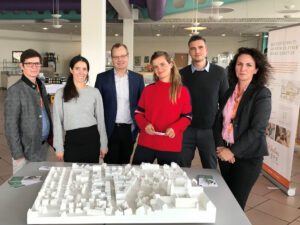 Anais Cosneau: "In Weingarten, a 3.7-hectare site is being redeveloped directly in the city centre. Industry and commercial enterprises were located there for about 150 years, most recently a press and machine factory. Now a new neighbourhood development is being built with about 500 apartments, a park, and accompanying commercial facilities – all in all, a good architectural and urban design that makes sense for the area. The only problem is that before the apartments can be built, the old, massive foundations from the industrial era have to be removed from the ground. This can only be done with extremely complex procedures. It's possible to maximise the reduction of noise and dust using special saws, but I'm not holding out much hope for that either. The reality is that it will be noisy and dirty over the next few months and at least until March 2023. There is nothing to sugarcoat, but there is no other way."
What opportunities does dialogue between citizens and developers offer? There was an info event just recently, for example. What did you think of it?
Anais Cosneau: "Most of Weingarten's citizens are looking forward to the new development. It's actually clear to everyone that Weingarten will not be fit for the future if there is a grey industrial wasteland in the city centre and contaminated soil underneath. For climatic reasons alone, we need unsealing and the possibility for rainwater to seep away, and for buildings and trees to provide shade. The people here in the region are realistic and aware of that. On the one hand, they're looking forward to the new Martinshöfe; on the other hand, of course, construction noise and dirt are a daily test of nerves. But it's acknowledged that the developer BUWOG is at least trying to make this phase as bearable as possible through technical and organisational optimisation. It'll still be noisy and dirty though, that's clear. On the other hand, dialogue with the citizens is important because everyone has to develop an understanding of what's being created here, also regarding opportunities for Weingarten. That's why we must always bear in mind that new apartments mean tax revenues and investments in the region – from contracts for local tradespeople to fitted kitchens and washing machines in the new apartments. That's also an economic factor."
What can the real estate industry do better in terms of dialogue and communication?
Anais Cosneau: "In my experience, it begins with accessibility. People want a real and credible contact person, not a call centre where they're put on hold for hours. Also, I can't urge the industry enough to be more transparent! In the age of social media and the like, companies must always be transparent and open about what they're doing. There's no such thing as semi-transparency. But anyone who's able to provide information on project details and builds well with respect to sustainability and architecture will always find an open ear among the people and be perceived as a good partner – for the urban community and for policymakers."
---
"For climatic reasons alone, we need unsealing and the possibility for rainwater to seep away, buildings and trees to provide shade."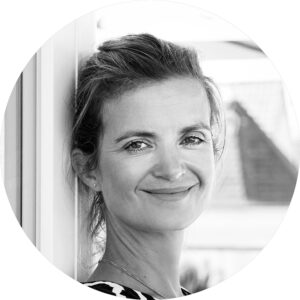 ---
These articles might also interest you: