The birds are chirping, freshly planted trees are swaying in the wind, and kids are romping on the brand-new playground. In the Nordenstadt district, the BUWOG REBOOT development is now finished. The residents are moving in and filling the neighbourhood with life. We paid a visit to the site.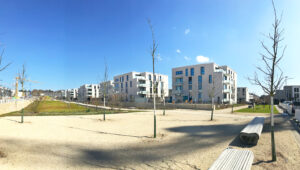 Wiesbaden in April 2022, the sky's bright blue. Though it's just ten degrees Celsius, the new playground is busy. The sand is very clean, the wood of the playground equipment shows how new everything is here. Opened in November 2021, the playground is part of the freshly laid out Hainpark in the Nordenstadt district, around which various terraced houses and apartment blocks are now grouped.
A moving van stands in a driveway in front of an apartment building. A block away, a couple is lifting a pale-coloured couch carefully wrapped in bubble wrap out of a rental van. There is a move-in atmosphere around Hainpark.
Mostly couples and families, but also single people of all ages, are moving into their new apartments or have already spent their first few months here. In one stairwell, some of the letterboxes are still without names. A few metres on, the first balconies are being planted and undergoing "floral individualisation".
Modest expansion to Nordenstadt
The BUWOG REBOOT development is part of the modest expansion of the Wiesbaden-Nordenstadt district. The new-build project was begun in 2018 and has been completed in stages since 2019. On the one hand, this has ensured smooth progress in construction. On the other, new neighbourhoods are developing bit by bit. In some cases, people are already living there while building is still underway next door. And – quite a practical advantage – the moves are distributed over months, so it can be said the new residential area is growing organically.
What's observed in Nordenstadt is happening in lots of places around Frankfurt am Main: around the "Großer Frankfurter Bogen" (along the A661 motorway), areas are being designated for new construction within a 30-minute radius of the financial centre, villages are being extended, and locations previously used for intensive agriculture are being developed and zoned as residential areas. 37 municipalities are doing this, including Wiesbaden, Darmstadt, Bad Homburg, Kelkheim, Langen and Schöneck. The advantage: public transport is being expanded and better linked at the same time that investments are being made in social and cultural infrastructure. The aim is not to create "dormitory towns" for commuters, but attractive places where people enjoy living, working and recreational activities plus a quality of life. The goal of this programme, which is funded by the Hessian Ministry of Economics, is for those living in the "Großer Frankfurter Bogen" area to not have to forgo anything: it's close to the regional centre, but affordable. It's residential space that's suitable for living yet affordable.
Housing for a variety of generations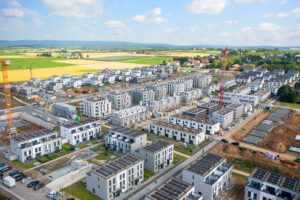 To implement the targets of the municipalities and the state of Hesse, the works of the last construction phase for BUWOG REBOOT were begun by the company "Bien-Ries" in spring of 2020. With the takeover and integration of the Hanau-based developer into the BUWOG development, the place has now been completed under the orange BUWOG flag. All those responsible in the project team as well as the architecture and planning remained unchanged and the project has now been completed as originally planned.
Today, the BUWOG REBOOT development comprises a total of 183 units divided into various types of housing. Thus, 103 condominiums and 80 terraced houses were constructed in four types of buildings aimed at various user groups and family sizes. In the final construction phase, 48 two-floor terraced houses with staggered floors and four apartment buildings with 52 two-to-four-room condominiums will now be handed over. The mix of apartments was designed so that there is suitable residential space for every family size, all of it barrier-free accessible. At least 600 people will find housing here that's suitable for them.
Living close to nature with sustainable qualities
Various green and play areas as well as leafy pocket parks are an enhancement to the development's image. Living close to nature plays a major role in Nordenstadt, of course. New trees have been planted, also regionally adapted shrubs, perennials and meadows, and in the outer lying areas pavement and sod are used that allow rainwater to seep away.
The issue of sustainability in construction is always important for BUWOG – starting with the choice of materials. The windows, for example, have a positive ecological balance and have been regionally sourced. This saves on production and delivery routes, plenty of transportation costs and on energy. When selecting building materials, from the very start of the tendering phase, attention was paid to sustainable materials such as concrete from climate-neutral production.
This ensures that the design is sustainable from the outset and will be enjoyed by many generations to come.