Congratulations, VSK Software: The new start-up, which Vonovia has also actively cooperated with since 2022, has won the "Built on IT" Special Start-up Award.
The "Built on IT – Construction Careers with a Future" competition is held under the patronage of the Federal Ministry of Economics and Climate Action. Every year, a jury of experts awards prizes to the most innovative young talents and start-ups in the construction industry that offer compelling digital solutions in the areas of planning, building and operation. The VSK Software team has set itself a major goal with its digital building permit application. It could be a significant part of a solution ensuring the faster approval and realisation of construction projects.
According to André Vonthron, founder and managing director of VSK Software GmbH: "Our goal is to considerably reduce the length and complexity of building permit procedures, first by enabling those authorised to submit building documents in order to reliably and quickly assess their models in advance and then by automating the approval process itself. The "Built on IT" Special Start-up Award is a monumental confirmation of our approach and an enormous source of motivation for the entire team!"
Digital building permit application: implementation as fast as possible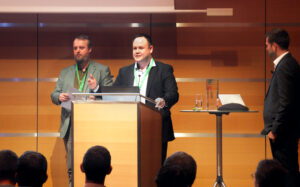 The digital building permit procedure and faster processing of high-quality application assessments with regard to state building regulations will benefit everyone: builders, authorities, management and everyone seeking an apartment and in need of new living space. BUWOG Managing Director Eva Weiß: "As a developer operating Germany-wide, we are actively supporting VSK Software on this path and will continue to help ensure that the digital application is put into practice as quickly as possible!"
VSK Software, BUWOG, Vonovia and the city of Bochum are currently running a test in which a digital solution for assessing building permit applications is being developed. The starting point for this is Building Information Modelling (BIM), which is widely used in the construction industry. A building's planning data is digitally recorded in the system, for example a 3D model of the building project, supplemented by information on building materials, construction costs and other building-specific details. VSK Software GmbH is now developing assessment rules with which the building regulatory office can check this planning information for the purpose of the building permit procedure. The assessment software is to be available to cities, construction companies, architects and developers before the end of 2023. We're keeping our fingers crossed!
---
"The competition shows how competent and future-oriented young men and women know how to use the new technologies in the sense of a modern construction industry."

Dr. Robert Habeck
Federal Minister for Economic Affairs and Climate Protection
---
These articles might also be of interest to you: