In our series "BUWOG, up close and personal", we introduce people who are working on current BUWOG projects and on issues that pertain to the future. They are all united by the aim of bringing BUWOG's slogan of "happy living" to life. This time in our series we talk with Till Naumann, project manager at BUWOG Bauträger GmbH.
"Helping to shape the built environment of the future in the best possible way"
Mr Naumann, what is your responsibility at BUWOG?
Till Naumann: "Due to the integration of the department for new construction, I've been with BUWOG since the beginning of 2022. I've actually been with the group much longer though – since 2018. I'm currently supporting the new-build projects I already began as a project manager, from obtaining building approval to development and handing over the completed rental apartments. In the future, the details of my responsibilities will be somewhat different but more similar than not. Recently, as part of the department for new construction, we've exclusively developed projects that were transferred to the group's real estate portfolio. When I began in 2018, the focus was on modular construction. Lately, our focus has been on holistic, energy-efficient approaches at the development level. In the future, there will be a wider range of responsibilities as a result of the broader, somewhat differently organised array of projects. Of course, I hope that "project acquisition" will return to the agenda as soon as possible and that we can develop new, exciting projects in the condominium and 'global exit' sectors."
How did you come to BUWOG, and what training and skills are needed to fill your position?
Till Naumann: "I studied architecture and then worked as a classic architect in every service phase, which means I come more from the technical side. While working, I completed additional commercial training with a focus on project development. Since we are actually confronted with both issues – technology and figures – in our day-to-day activity, this is a good basis for project work. But I can also say that with every development project there are new issues, and there is no such thing as having "learned it all" (laughs)! Regardless of the focus of training, it's therefore crucial to develop an idea and objective for the respective project in the project team and then to work on it together and consistently. Perhaps the most important thing I've learned as an architect for this is to think conceptually about a project, to develop it together in specialist disciplines and, if necessary, to defend it against opposition."
What are the typical responsibilities in your area of activity?
Till Naumann: "A typical responsibility of mine is to keep an overview of every facet of the project. As a project manager, you have to be aware of nearly everything at all times and ensure everything goes according to plan. The commercial spectrum ranges from calculation to accounting. The technical issues range from the first sketch to the transfer of the apartments defect-free. Then there's the emotional spectrum: as a project manager, you are the contact person for a wide array of people, from residents, who have to be well informed, to contacts with offices and authorities, to the management of technical service providers. You often have to keep a cool head… In a project that was recently complete, a construction company used concrete to cover a sewer during civil engineering work! The sewage then collected in the cellar in the neighbourhood… Such unforeseeable issues can happen, even with the best planning, and then you have to deal with them in a professional and solution-orientated manner. On the other hand, there are the lovely moments such as ground-breakings and topping-out ceremonies, which we celebrate together with everyone involved in such a new construction project."
What are the challenges and opportunities in your area of activity?
Till Naumann: "The biggest challenge at the moment is calculability. Current geopolitical and financial conditions have resulted in a mix of rising interest rates, material shortages and considerable construction costs. This makes it a growing challenge to calculate projects. On the other hand, the demand for housing remains high. Against the background of ambitious housing construction goals, it is an opportunity to simplify the increasingly stringent legal requirements in some areas… I also see an chance for attractive new funding models to achieve the federal government's sustainability objectives in the housing sector. Though this will have an impact on the existing portfolio, there are certainly some synergies arising from interaction with new construction, especially at the development level. But the biggest opportunity in my area is the ability to help shape the built environment of the future in the best possible way with what we plan!
Co-designing is a good topic, and you've got a special redensification project in Darmstadt. What makes this project stand out?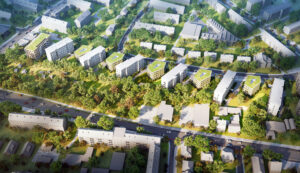 Till Naumann: "It is a good topic, and when I got the chance to take over development in Darmstadt, I was personally quite
pleased. I studied in Darmstadt. My three boys were born here. I've grown very fond of the place. For a 'local patriot', joy and sorrow are often of a piece: in 2021, the Mathildenhöhe was named a World Heritage Site, and in 2022, the Lilien missed by a scratch (laughs)! But this year things are looking very good for our club again, so fingers crossed. Our project in Darmstadt aims to add new buildings to an existing housing estate and to upgrade the residential environment. The so-called "Postsiedlung" in the south of Darmstadt was originally designed as housing for the civil service, but was later privatised. The location is great, but from today's perspective the simple string of row houses still has room for improvement in architectural terms. In 2020, an evaluation was conducted to come up with a clever urban development concept to dissolve the rigid structures. The question is how to make improvements for the current residents while simultaneously creating affordable and sustainable living space for new tenants? I think the result is very successful: exciting architecture in polygonal structures with 91 units that fit in well. The residential environment has also been thoroughly redesigned, preserving a maximum amount of trees and with rainwater infiltration and covered bicycle parking. And last but not least, there is an innovative energy concept based on local heating and renewable energies that will already be well below the target value of the climate path for the entire development by 2025. The shell has just been completed, on schedule."
What do you think – what will our housing look like in the future?
Till Naumann: "Housing has always been incredibly individual. Digitalisation and innovative mobility will certainly play a major role in the future, and with it, possibly a preference for rural areas again. It would be great if conditions were established ensuring that as many people as possible can live carefree based on what they want, whether in housing groups, shared apartments, patchwork families or even completely secluded. From my point of view, the goal must therefore be to come up with typologies that don't restrict future users but offer the space to develop instead."
Happy living: What does BUWOG's slogan mean for you on a very personal level?
Till Naumann: "Well, depending on the phase of life, I would probably answer this question a little differently! In the past, as a student, I couldn't live close enough to the centre. It was important to have a working fridge in a shared apartment, and neighbours who were tolerant of noise… These days, I'm happy with my garden where the kids play and I can barbecue and celebrate with family and friends. What connects both phases of life is an ideally balanced blend of spaces for individual and communal use. So for me, happy living in its entirety means having space for the best possible development and for needs in the respective phases of life."
Profile
I was born in Lower Saxony, in the heart of Hesse, even if I still can't quite speak the dialect". I enjoy socialising with family and friends and jogging, cycling and playing basketball as often as I can. In the quiet moments I also read and can highly recommend Herrndorf, Kracht or Regener.
Favourite quote:
"You have to keep your mind alive, work, help others, laugh, cry and experience life intensively. It only lasts for a brief moment."
(from an interview with Oskar Niemeyer)
---
These articles might also be of interest to you: