With a 35.2% increase in attendance and therefore 6,505 visitors, the Vienna Real Estate Fair (WIM) at the Congress Center in Vienna in mid-March celebrated a sensational visitor record. As in previous years, the BUWOG Group was also there with a lecture by expert Peter Berchtold, head of the BUWOG sales department in Austria, and a state-of-the-art exhibition stand.
The Viennese Real Estate Fair has become established as a fixture on our trade fair calendar over the past few years. It's not just the WIM's organisational team that can take pride in the new visitor record this year; all 113 exhibitors including property developers, brokers and financial advisers were quite pleased with the large number of interested attendees. Visitors listened to informative lectures and exciting discussions on two stages. I was also there with a well-attended lecture on the First Vienna Residential Market Report 2018. I would like to thank all of the listeners for their attendance and interest in key aspects of the housing search such as the demographic development of Vienna and Vienna's households, trends in pricing, development potentials of entire districts, and new building projects which are under construction or in planning.
Our newly designed and modernised exhibition stand has been in use since last year (we reported on it here) and was also a success again this year. That is because, for us, the well-attended trade fair weekend was mainly characterised by a large number of consultations concerning our latest development projects. From the start of construction to completion, we naturally had a few projects in our portfolio that we also presented to our customers on iPads. I would like to present a brief selection of them to you:
City Apartments, Rechte Wienzeile 229, 1120 Vienna
Directly on the river Wien and with a close connection to the U4 and U6 underground stations, we are building 144 privately financed condominiums and buy-to-rent apartments. All of the apartments have open areas such as a loggia or private garden, but I'm reluctant to reveal too much – find out more in our video of the topping out on 18 January 2018.
Grinzinger Allee 6-8, 1190 Vienna
Construction recently began for "Grinzinger Allee 6-8", the affiliate of our international award-winning luxury project "Pfarrwiesengasse 23". In a location that's just as exclusive, 43 privately financed condominiums will be built here on six floors by April of next year. In addition to especially high-quality fixtures and fittings, the property will also have an internal fitness centre.
SeeSee, Seestadt Aspern, 1220 Vienna
In the up-and-coming Seestadt Aspern district, we have three projects in the privately financed property segment. Construction began in summer of last year and the progress is impressive. Only a few days ago, our marketing team created a new showroom on site, where prospective buyers can gain impressions of the fittings and fixtures of the residential units. Completion of SeeSee Tower, SeeSee Home and SeeSee Living is scheduled for spring 2019.
RIVUS I, II, III, former Unilever premises, 1230 Vienna
On the property between Breitenfurter Straße, Gregorygasse and Walter-Jurmann-Gasse, the BUWOG Group is building a residential park with around 500 residential units. There will also be a kindergarten, elementary school and retail market. RIVUS Quartus, a part of the overall project featuring 100 rental apartments and 30 privately financed condominiums, was completed last year. The additional segments RIVUS I, II and III celebrated their topping out, or the finishing of the shell, on 15 March. Their completion is planned for summer and fall of 201.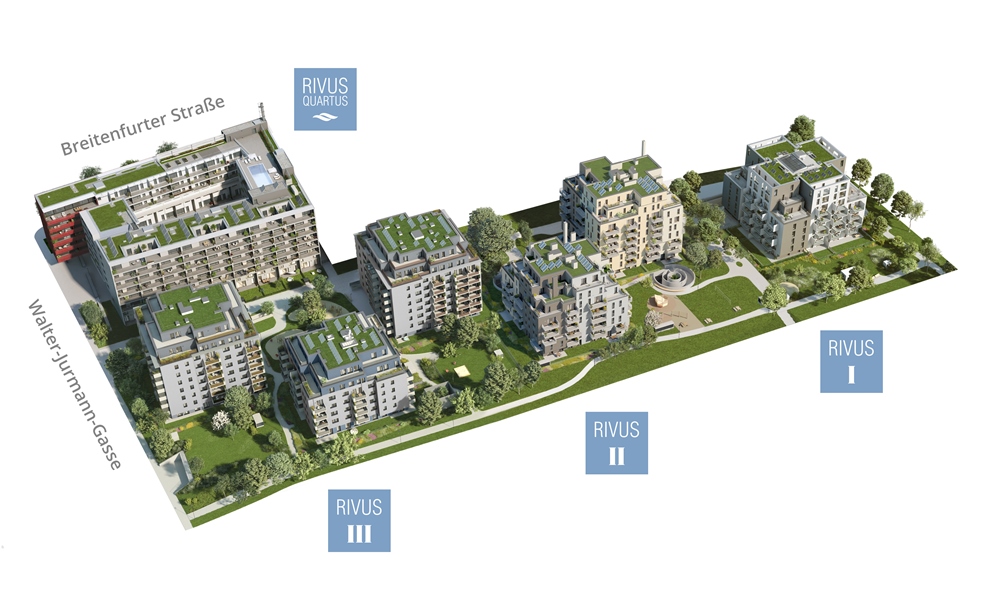 Töllergasse T(h)ree & freiraum:21 in 1210 Vienna
We also have two projects in the 21st district at present: with "freiraum:21" we have built 140 privately financed condominiums on Karl-Nieschlag-Gasse and 96 privately financed units at Töllergasse 3.  Both projects are not far from the Alte Donau and were completed a short time ago. Currently, there are still two apartments on Karl-Nieschlag-Gasse and ten apartments on Töllergasse for sale.


I hope I was able to provide you with an overview of our current activities with this brief report on the WIM and my selection of projects. I'm already looking forward to reporting on subsequent developments at the WIM 2019.
Best regards,
Peter Friedrich Berchtold