In April 2020, the takeover of Hessian project developer Bien-Ries was completed, and the integration is now moving along. As of January 2021, the Hanau-based company will be "rebranded": Bien-Ries will become BUWOG. This means that new construction activity will be managed nationwide under the uniform brand name.
BUWOG's striking orange is also ablaze now in the Rhine-Main region: at the turn of the year, all construction sites will be redesigned and rebranded, containers freshly painted and all communication channels adapted to the BUWOG brand. This marks the next stage in the integration of Hessian property developer Bien-Ries into BUWOG.
From this point on, BUWOG's brand identity will be uniform – with the traditional corporate design and the well-known slogan of "happy living".
Daniel Riedl, member of the Management Board of Vonovia SE who is responsible for all BUWOG operations in Austria as well as BUWOG Development in Germany: "The BUWOG brand has a high level of recognition and achieves very good values, particularly with respect to positive product experience and recommendations. A brand value of 93.04 was recently achieved, thus it makes sense to also manage the activities in the Rhine-Main region under the BUWOG brand."
The usual contacts in Rhine-Main
Nothing else will change for the approximately 70 employees; all responsibilities at the location will remain the same, as will all contacts for government offices, administration and prospective customers. The team is to be expanded even further in the course of 2021 in order to successfully handle the growing development pipeline.
Daniel Riedl: "The projects and the successful team in the Rhine-Main region are the perfect complement for our development business. We will also be able to bring exciting projects to fruition with the local team in the future. Looking back on our first months together, we can say we are united by our consistent focus on quality in the creation of sustainable housing – and now also by the BUWOG brand."
Eleven new building projects in the Rhine-Main region are currently in preparation or under construction, including DAS GRÜNGOLD in Bad Nauheim, REBOOT in Wiesbaden-Nordenstadt and LANDGUT in Hanau-Mittelbuchen. The focus of the residential real estate projects is on the so-called "Großer Frankfurter Bogen" (along the A 661 motorway), which is an association of 35 Hessian municipalities within a 30-minute radius of Frankfurt am Main. They will be funded through the Ministry of Economics, Energy, Transport and Housing's likewise named state programme and will be even better connected in the future with improved public transport.
Daniel Riedl: "That means communities such as Bad Nauheim, Kilianstädten and Heusenstamm will be more closely connected to the financial centre of Frankfurt am Main. We are providing support to this positive development by creating sustainable housing for all target groups – from students to families and older people with the need for barrier-free living."
3 questions to Daniel Riedl
How's the integration of Bien-Ries proceeding from your perspective?
Daniel Riedl: "First, many organisational issues are being solved, for example, everyone is getting new laptops and iPhones and will be connected to the group in technical terms. But it's just as important that everyone succeeds. For this, the uniform identity under the BUWOG brand is a very important step. In keeping with the BUWOG slogan of 'happy living', it is important to us that our employees are also happy at work. The team can be proud of what's been achieved and look forward to what's yet to come. As an experienced project developer and with quality, sustainable new construction, we are part of the solution to create new housing. I'm sure the team in Hanau will identify well with this and will quickly succeed in our orange world."
Integration in the era of Corona – is that especially challenging?
Daniel Riedl:  "Yes, I would like to have been in Hanau myself much more often to give a warm welcome to everyone at BUWOG. But we always focus on the opportunities: numerous technical issues that, for example, are the basis for mobile working – which is especially important now in this time of Corona – are being solved with the integration. And we've discovered new formats and methods via video messaging, including Christmas greetings. And of course everyone has also received a BUWOG starter set, so that the new equipment is also the requisite orange. Our marketing team did a great job."
Will the diversity for which Bien-Ries was known continue to be offered in the new construction business as well?
Daniel Riedl:  "Yes, not only do we allow for diversity, we encourage it – especially with regard to different architectures, sustainable local solutions and a broad mix of housing that meets the need. We think in terms of neighbourhoods. This means we create functioning neighbourhoods that are coherent in themselves, that fit the history and spirit of the location and that blend well into the surroundings. We focus on local demand, create housing and sustainable qualities to accompany it, e.g. green spaces, play areas, local suppliers important for residential areas, day-care centres and social facilities. Diversity is the prerequisite for the high level of acceptance that characterises all of our projects. In our neighbourhoods, a large share of the new residents – often couples and young families – come from the immediate vicinity."
Bien-Ries will become BUWOG
What will change as of January 2021?
Uniform look. From Bien-Ries to BUWOG – the building sites in the Rhine-Main region will feature the distinctive BUWOG look. The subsidiary in Hanau is also being rebranded.
Broader range. All available condominiums in the Rhine-Main area can be found on the website www.buwog.de. Attractive apartments from all over Germany can also be found there.
Our own websites. Large new construction projects in the Rhine-Main region such as KILIANsHÖHE and DAS GRÜNDGOLD will also have their own online presence with plenty of additional information on location and amenities.
The usual accessibility. The contact persons in Hanau will remain the same. Whether for prospective customers or for those responsible in administration and politics: all of the contacts who previously worked under "Bien-Ries" are still on board and can be reached as usual.
New opportunities. The team is being expanded for further growth and the creation of new housing. In the course of the year, this will create more jobs at the Hanau location. More at http://karriere.buwog.com/
Current real estate projects in Frankfurt & Rhine-Main
BUWOG DAS GRÜNGOLD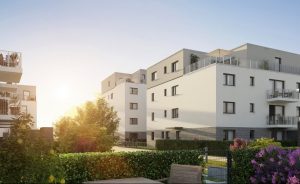 New build project in Bad-Nauheim
Property: 79 condominiums with 1 to 4 rooms
Completion: likely 2022
Project status: currently in operation
info at dasgruengold.de
BUWOG REBOOT
New build project in Wiesbaden-Nordenstadt
Property: 52 condominiums with 2 to 4 rooms and terraced housing with 4 various types of buildings
Completion: likely 2022
Project status: currently in operation
info at buwog-reboot.de
BAUTZ site
New build project in Hanau on the banks of the Main
Property: around 1,400 rental apartments and condominiums on an approximately 18-hectare site on the banks of the Main
Start of construction: 2021
Project status: currently in preparation
Service
Learn more
Condominiums, terraced, single- and multiple-family housing: discover all other properties in Frankfurt & Rhine-Main now at www.buwog.de.
---

"Not only do we allow for diversity, we encourage it – especially with regard to different architectures, sustainable local solutions and a broad mix of housing that meets the need."