A first-rate summit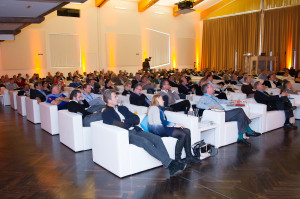 As one of the participants, I'd like to report to you on this year's re.comm 14 in Kitzbühel. CEO Daniel Riedl, Supervisory Board Chairman Vitus Eckert, Andreas Holler, Managing Director of Property Development Austria, and Alexander Happ, Managing Director of Property Development Germany, took part in this first-rate summit on behalf of BUWOG Group.re.comm is a visionary and exclusive forum, a laboratory for ideas and a think tank. It provides food for thought and new ideas for approx. 250 top players in the international real estate business. This year again BUWOG Group was also a supporter and partner of what for us is a highly important and future-oriented event.
One of the central messages of the event was: we live in complicated times – not only in economic terms. Politics, the environment and modern technologies continually pose new challenges to society, particularly to those who carry responsibility. For this reason re.comm gathered decision makers in the international real estate business together in Tyrol to acquire new ideas and exchange experiences. re.comm originated out of the vision to create an exclusive platform for new discourses in the real estate business. It is an invitation to develop new ideas as well as find new approaches and to discuss them together with high-profile speakers. The exchange of ideas is to enable participants to draw personal conclusions for their own actions.
The speakers
I would like to call attention to the high-profile international speakers from a variety of disciplines and with various perspectives and ways of thinking. For me all of the speakers were exciting personalities who really had something to say, leaving no doubt that there is a need to take action in a large number of economic and social interfaces. I was especially impressed by the following speakers:
Michio Kaku
The futurist and co-founder of the string theory took the audience on a journey into our consciousness and presented new and radical ways to reflect on our "self".
Karl-Heinz Brodbeck
The creativity researcher and expert in business ethics finds, above all, the use of statistical methods adapted to classical mechanics and thermodynamics a challenge.
Daniel. W. Rasmus
The strategist and industrial analyst presented possibilities on how a better balance can be established at work in order to maximise opportunities and performance.
You'll find more on this incl. pictures and sound material under:
Supporting programme: top-level networking
In addition to the outstanding day programme, high-profile evening events suitable for the occasion and surrounding area took place. These side events provided space to deepen networking activity and to exchange ideas. In his address on the second night at Rosi's Sonnbergstuben, powered by BUWOG Group, Daniel Riedl called on all industry members to support this unique event as a partner and to continue shaping it. BUWOG Group's approach of being open to new ideas as well as of addressing trends and issues of the future in the real estate industry might inspire others as well, Daniel Riedl hopes.
In an interview with Immoflash Riedl praises re.comm and its auxiliary events as a special "mix of advance thinking, lateral thinking and networking in a pleasant atmosphere".
Watch the video here:
https://www.youtube.com/watch?feature=player_embedded&v=qdyAbocVoaY
I'm very pleased to have been a part of this successful event and extend my thanks to all participants for the outstanding organisation. I'm already excited about the topics and discussions in a year at re.comm 2015.