Three buildings and a courtyard for everyone
Apartments of one to three rooms, barrier-free, from single apartments to homes for young families: architect Anne Lampen has designed a cross-generational ensemble for BUWOG. At BUWOG Regattahof, the focus is on coexisting concepts of living. We met up with the architect for a chat.
Ms Lampen, how did you come to the BUWOG Regattahof project?
Anne Lampen: I came to the project through a request from BUWOG. They asked me if I would like to participate in a small competition with two other firms. I found the task and the location exciting, so I gladly accepted.
The ensemble is located along Regattastraße. What does that mean for you as an architect, for instance when creating quiet apartments?
Of course Regattastraße has a relatively significant amount of traffic from cars and trams. For this reason, the B-plan in this location stipulates strict noise protection requirements. This means, for example, that small apartments must be located entirely on the side not exposed to noise. For apartments with two rooms or more, at least one room of the apartment must be located on the side not exposed to noise – that's what the requirements stipulate. BUWOG's request for as many compact apartments as possible and the noise protection requirements were the reason for the design idea to place the stairwells and circulation areas as a narrow noise buffer along the noisy Regattastraße. This trick allowed us to develop numerous small apartments into a quiet courtyard.
From the very beginning, the courtyard was planned as an oasis and green garden for all residents. To make the courtyard bright and attractive despite the maximum exploitation of the property requested, the two garden houses are lower. We also arranged the two garden houses at a slight angle to the front building. This positioning and the opening between the garden houses create ample visual axes and perspectives. All of the apartments are to also be furnished with spacious balconies with a view into the green courtyard, while all ground floor apartments have large terraces that merge into the green garden courtyard and all upper floor apartments have spacious balconies.
You play with visual axes on the one hand and a variety of materials on the other.
Yes, exactly. Another design idea was a façade structured using natural and haptic materials, which is also meant to appeal to the target group of young people. The stairwells with their even, exposed concrete stairs are accentuated by extensive industrial glazing and wood panelling. At dusk and in the evening they glow like lanterns and allow the staircases to shimmer through. The pre-weathered solid larch adds warm, haptic accents.
Were there many changes from the first draft to what's now being built?
The basic concept of the competition design is still well maintained. There were of course small changes in the optimisation process. For example, we were able to eliminate a staircase in the front building, and the corner lifts that were originally planned were replaced by more cost-effective lifts that have entrances at the front and rear.
BUWOG Regattahof offers apartments with one, two and three rooms – what particular challenges does such a mix pose for you as an architect?
The mix of micro-apartments as well as larger apartments is challenging, but it provides the opportunity to make optimum use of the building's structure and to create high quality. By alternating from single apartments facing the courtyard on one side to two- and three-room apartments extending from front to back, we were able to achieve a good mix of apartments while adhering to the requirements of the B-plan.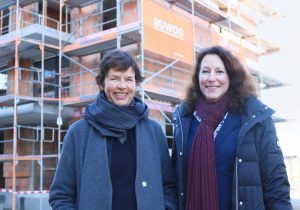 You reinterpret the idea of a courtyard with an inner courtyard and terraced outdoor area. Why is such a courtyard so important for you?
The courtyard is a place for communication. Especially with numerous small flats, the possibility for communal use and relaxed socialising, if desired, is important. Everyone can gather here – students, families, children, seniors, single people, couples, everyone. Here it is possible to barbecue, garden, relax, play and chat together.
As a large number of underground parking spaces were required, we had the idea of building a cellar under only a small part of the courtyard, thus creating a terraced courtyard garden, which forms an interesting spatial zone for the various activities. There are raised beds for urban gardening, ramps for skating, quiet areas and places to play. A casual opportunity for socialising is important, particularly in today's world, in which so many people live alone. That's the idea behind this courtyard.
BUWOG's motto is happy living. From your perspective, what does "happy living" mean?
Happy living: for me it means that I feel free and safe in my apartment and that I'm happy to wake up in the morning in my well-proportioned, lovely place; that I'm happy when I come home in the evening, see where I live, enter into an inviting, well-lit and welcoming stairwell and come into my apartment; that I feel good because my apartment suits me, everything has its place, and when I go out on the balcony I can look into the garden or go downstairs to meet people if I feel like it, or stay upstairs if I've talked enough for the day and just want to see other people from a distance. When I design a house, I imagine how I would want to live there, and that determines my design and the architecture.
---
Read more
Find out more about Anne Lampen and her Team on her webseite on anne-lampen.de