The real estate industry plays an important role in reducing carbon dioxide emissions and implementing sustainable, environmentally sound business practices. The BUWOG Group is now establishing ambitious sustainability targets for its new construction projects in Germany.
Private households are highly important with regard to energy consumption. This is because apartments and houses are responsible for about 40 percent of energy consumption in Germany. It is time to do even more.
The sustainability targets formulated by the BUWOG Group for this pertain to new construction business in Germany as well as the Berlin office location and are reviewed and managed by means of continuous monitoring as part of the certified energy management system (EnMs) in accordance with ISO 50001.
A review has now been carried out by the responsible certification partner GUTcert and the ISO 50001 certificate presented.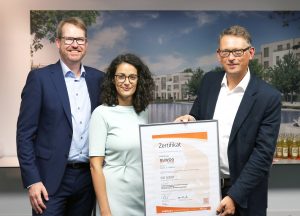 ISO 50001: Presentation of the certificate by Jochen Buser (right) of GUTcert to BUWOG Managing Director Alexander Happ (left) and Sustainability Manager Amira Zauchner.
BUWOG has been pursuing ambitious climate protection targets for many years, it is a partner in the Austrian "klima: aktiv pakt2020", and it strives to continuously improve its sustainability performance.
Daniel Riedl, CEO of the BUWOG Group: "As a company, we create sustainable housing that reconciles economic, ecological and social factors. Energetically optimised new construction and resource efficiency at the Berlin office location are important steps for reaching the sustainability targets by 2023 and for continually improving."
With the following three targets, BUWOG's sustainable future has gathered considerable momentum, offering numerous opportunities for people, nature and the climate.
Target 1: More renewable energy sources in the new construction business
The BUWOG Group currently has almost 11,000 residential units in the development pipeline. Numerous projects already feature comprehensive sustainability-related aspects. For example, in the 52° Nord district the BUWOG Group has built an energy centre for local heat production, which is operated with bio-methane gas. That's clever:  electricity is generated as a by-product and supplies the neighbourhood – a sensible thing.
By 2023, the share of new apartments with renewable energy sources is to increase from 25 percent to 35 percent. More than every third apartment will then be supplied with renewable energy, for instance from local energy production. The creation of energy-efficient conditions is also a central element of BUWOG's sustainability strategy.
PROPERTY TIP: With the Kompass buildings, the BUWOG Group is currently building innovative wood hybrid housing. 50 units are to be built here, for which funding in accordance with KfW-40 is possible due to top insulation values.
52° Nord: Decentralised energy production using organic methane
Target 2: Promotion of electromobility
Combustion engines literally burn fossil fuels and are now considered a phase-out model. For ordinary consumers to easily switch to electric cars or e-bikes, however, the appropriate charging stations are required at their building. Here, too, the BUWOG Group is pursuing ambitious sustainability targets: by 2020, the share of parking spaces with their own electric charging station is expected to grow from nine percent at present to a minimum of 12 percent. This is meant to facilitate the residents' transition to electric cars and bicycles.
Target 3: Becoming a good role model with energy-saving measures
BUWOG is also taking action at the Berlin office location and is therefore promoting the environmental and climate awareness of its employees in their everyday work.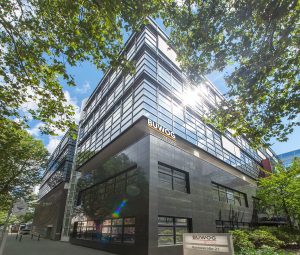 In the office complex on Rankestrasse in Berlin – not far from the Memorial Church – energy consumption for electricity and heat is to be reduced five percent by 2023.
All employees are called upon when using the company car fleet as well: by 2021, carbon dioxide emissions from business trips and corporate fleets are to be reduced from 175 g CO2 per kilometre to 150 g CO2 per kilometre. The share of electric cars and hybrid vehicles will be expanded for this and awareness raised concerning fuel-saving driving methods.
Berlin office location: BUWOG is setting a good example here
---
Photo credit: BUWOG Group / M. Divé (2), Fabian Frühling, Claudia Hechtenberg