There's rejoicing and delight at BUWOG. In the "Great Place to Work" (GPTW) competition, the company was awarded seventh place as one of the winners on 19 May 2022, making it one of the best employers in Austria. We spoke to Astrid Lassner, director of human resources management, about how this award came about and what the certification means for BUWOG.
Employer branding is becoming increasingly important for companies in the competition for the best employees. This is also true of BUWOG, which is a pioneer in this area and has been focusing on work-life balance and a variety of benefits for its staff for quite a number of years. "Moving forward together" and "happy working" are the guiding principles that stand for the company's common foundation. For BUWOG's human resources department under the leadership of Astrid Lassner, the aim is to expand existing services and to develop and enhance them based on employee wishes.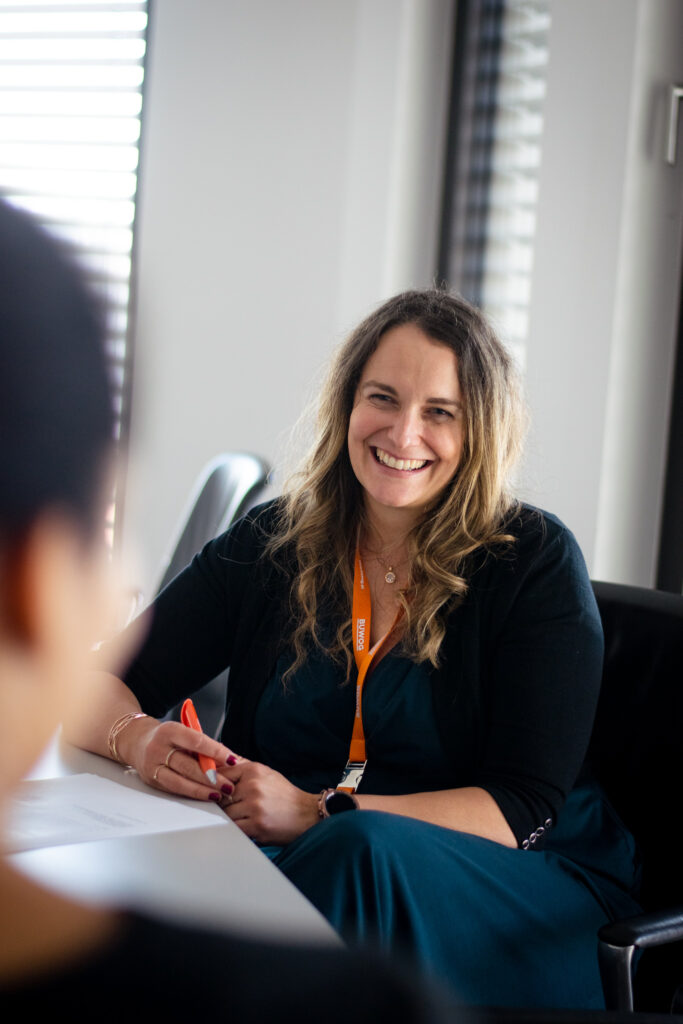 Ms Lassner, BUWOG was recently voted one of Austria's best employers. What makes this award so special?
We're very pleased about this award. After winning the Leading Employer and Best Recruiters awards this year, certification as Great Place to Work is another nice confirmation that we're on the right track.
The special thing about GPTW is the fact that the award is based on employee opinion. In autumn of 2021 there was a survey within GPTW and our award is based on this survey. We are truly pleased that we made it into the top ten.
What activities and qualities do you think make BUWOG a GPTW?
There are various elements, all of which make BUWOG a fantastic employer. We try to create the best working conditions at every level. First and foremost, we have flexible working hours, a state-of-the-art office with great equipment and our own home office arrangement. In this way, we try to offer all employees enough scope for their personal work-life balance and family-friendly working conditions. BUWOG also prioritises human resources development. There is a strong focus on training and further education. This is entirely voluntary, but everyone has the chance to further their education in a variety of ways. This is also a special feature compared to other companies. We not only provide professional training, but personal development as well.
People often talk about the spirit at BUWOG, but what is it exactly?
Our fantastic team spirit and cohesion! This is evident in our day-to-day work, but there's so much more. For example, there's plenty of fun at BUWOG. We have all sorts of gatherings throughout the year, from barbecues in the summer to joint sports activities, events organised by the works council, after-work parties and Christmas parties.
I especially like the fact that the staff is taken into account as a whole, but so are the needs of each individual. This appreciation on the part of management makes our team spirit possible.
Who at BUWOG develops this portfolio of services/benefits and where do the ideas come from?
By participating in the 2019 GPTW survey, we analysed the results and derived measures from them. One measure was the share programme, which gives employees a direct stake in the company's success. A new career site was also created and an apprenticeship and trainee programme was launched.
Internally, the Melange Orange platform was introduced, a virtual or genuine chance to have a break with people from other departments you might not know yet. These are always measures derived from employee wishes, and we make sure the services are continually updated and adapted.
There are also suggestions from various departments such as HR, health management, the works council and marketing.
Certifications such as GPTW are not only a cause for celebration, but also quite time-consuming in terms of submission and processing. Is the success worth the effort?
Of course, there's loads of work behind such a submission. I'd like to take this opportunity to thank Nadine Lederer, who handled the submission process and helped design and coordinate the survey project.
In terms of scope, such a cultural audit can be imagined as a diploma thesis. It encompasses all of our activities, numerous photos included. Putting it together was a lot of work, but it paid off. We are really very proud of the result.
What does the award mean for BUWOG and what does it mean for the future of the company?
Apart from the fact that it is a great honour to be named GPTW by the employees, it's also an advantage for the company's reputation. Especially now, in times like these, when we're experiencing enormous competition for qualified employees, it's beneficial to be able to advertise with an award like GPTW in recruiting talks. Of course, every company tells us how great it is, but now we can also prove that our employees truly feel it. They've voted us a GPTW.
What's being done to make BUWOG even more attractive as an employer in the future?
The most important thing is that we are able to maintain the good result. BUWOG truly achieves plenty, and, if necessary, our services are also adapted. For example, if there are few inquiries about an offer, we cancel it and put the resources used for it into another project. We always try to remain up to date and we also keep our eye on details. For example, BUWOG employees receive a bottle of Champagne for their birthday. Recently we received feedback that some colleagues would prefer a non-alcoholic alternative. We organised a non-alcoholic sparkling wine tasting and chose the one best for us. Now we've got a great alternative. It's not a big deal, but it shows that we're keeping our ears open for even the tiniest of details. We always try to adapt and expand our services based on our staff's wishes.
What role does the coronavirus pandemic play in this respect?
The pandemic was an enormous challenge for us, as it has been for every employer. While numerous companies had to struggle with staff reductions and short-time work, BUWOG not only retained all of its employees, but also carried out major campaigns that conveyed the BUWOG spirit, despite the distance. And we kept our eyes on changing needs throughout. Prior to the pandemic, BUWOG offered the chance to work in a home office twice a month. During the pandemic, we adapted the offer and created a new home-office company agreement, which now allows up to two days per week.
With initiatives such as the new apprenticeship programme, new childcare offers and the aforementioned share programme for employees, we have continued to develop, even in tough times. I am very well connected with colleagues from the HR sector, and the various measures and benefits offered and implemented at BUWOG are not something to be taken for granted. The result at GPTW shows that BUWOG employees are also aware of this and truly value their working environment here.
---
Great Place to Work is an independent research and consulting institute that promotes an employee-friendly workplace culture in companies and recognises those employers who value an innovative, appreciative and trusting corporate culture. The certification is based on independent, anonymous feedback from all employees of a company.
---