The southeast of Berlin is booming: the district of Treptow-Köpenick is becoming increasingly popular, not least due to the steadily growing science and business location of Adlershof. The BUWOG Group is now creating additional residential space in the "52° Nord" quarter, combining waterfront living with a convenient location not far from the airport. BUWOG is set to begin building another 33 units.
With four floors plus a penthouse based on a design by architectural firm Aukett + Heese, the "Haus an der Dahme", which is now being marketed, will be built on the banks of the river beginning in spring 2018. A spacious residential flair is provided featuring intelligent floor plans and ceiling heights of 2.80 meters. Floor-to-ceiling windows and transparent railings on the balcony allow a direct view of the water. Sliding elements made of Italian fibreglass provide protection against the sun and wind, which means the balconies and loggias can be used in nearly any weather.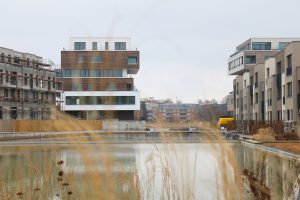 Sustainability is a top priority in the "52 ° Nord" district. A 6,000 sqm, specially created body of water is an enhancement to the microclimate in the residential area. It cleanses itself by means of lateral vegetation and biological substrate filters. This water concept as well as the continuous monitoring are getting academic support from TU Berlin.
Another aspect of sustainability is the quarterly local heating supply with a primary energy factor of zero percent, which covers the entire annual heating requirement for space heating and hot water and generates electricity at the same time.