As already announced in the last blog entry, here is a brief update following our roadshow along with participation in two conferences in the USA:
After BUWOG AG undertook an extensive capital market update in October in the course of a European roadshow, we took advantage of our participation in the Austrian Conference 2014 of the Vienna Stock Exchange, Erste Group and Auerbach Grayson and the Barclays Select Series 2014 in New York for visits with a number of US-American institutional investors in Chicago, Boston and New York. We had already visited some of these investors in the context of the roadshow prior to the spin-off in April 2014. In these instances we were able to restrict ourselves to one update and constructively discuss the change of the strategy planned at the time. At the same time, management gained recognition especially for its successful closing of the DGAG portfolio purchase in Germany as well as the favourable results in the sale of individual flats.
Other investors we met for the first time and presented BUWOG AG's business model or we discussed current and future market and company developments, particularly with existing investors.In general US-American investors, too, are interested in and informed about the property sector in German-speaking countries. The industry is given particular attention, on the one hand, for its relatively stable revenues in times of low interest and, on the other hand, in view of the potential consolidation within the sector. Encouraged by the largely positive feedback, we remain committed to pursuing our successful strategy of "promise and deliver" in the interest of BUWOG AG and its shareholders.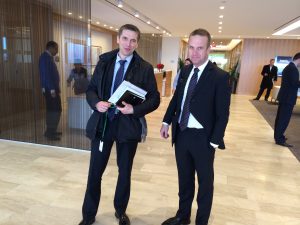 We thank our supporting banks Barclays, Berenberg and Erste Group for organising stimulating interviews. We also express our special thanks to BUWOG Group's employees, particularly the team assisting the executive board and the colleagues in marketing and investor relations and corporate finance for the smooth organisation.