64,000 square metres of exhibition space, 1,768 exhibitors and around 40,000 international participants: this year's EXPO REAL 2017 in Munich is set to conclude with a record result. The EXPO REAL is Europe's biggest B2B trade fair for real estate and investments and reflects the entire value chain of the international real estate industry – from the idea and conception to financing and realisation to marketing, operation and use.
As the leading German-Austrian full-service provider in the residential property business, the BUWOG Group was also presented in a prominent location of Hall B2 on three days of the trade fair as part of the AUSTRIA stand. Visitors to the BUWOG Group's presentation area found specific information about the areas of business, discussed issues and ideas with attending business partners and learned about development projects in Berlin, Vienna and Hamburg.
It was possible to experience selected projects such as  "52 Grad Nord" in Berlin for the first time with an innovative visualisation technology: the project could be viewed interactively with "Oculus Rift" glasses. The technology enabled those interested to see especially detailed interior and exterior views and, using spectacle optics and a joystick, to navigate through the new quarters on their own.
The BUWOG Group wins the REAL ESTATE BRAND AWARD
This year as well, the top players of the real estate industry evaluated for branding and positioning in the REAL ESTATE BRAND VALUE STUDY were presented with awards at the EXPO REAL – the international trade fair for real estate and investments in Munich. The BUWOG Group managed to take first place in the category "Top 100 Residential Austria" for the third consecutive time and was delighted about the REAL ESTATE BRAND AWARD. With a brand value of 86.48%, in this year's ranking the brand achieved the top value of all of the companies studied.
BUWOG CEO Daniel Riedl and COO Herwig Teufelsdorfer accepted the REAL ESTATE BRAND AWARD from Harald Steiner, CEO of the EUREB Institute. "It is a great honour for us to emerge from this study again in first place and to win the REAL ESTATE BRAND AWARD", Daniel Riedl said at the margins of the trade fair.
Every year in the Brand Value Study the European Real Estate Brand Institute evaluates the brand potential and positioning of the most important real estate companies through a panel of around 600,000 consumers and those with an interest in real estate. The strongest corporate brands are therefore determined in every category of the German and Austrian real estate industry. Harald Steiner, CEO of the EUREB Institute explains: "In the perception of those surveyed, the BUWOG Group is positioned in the study through outstanding ratings on trustworthiness as well as a high level of punctuality and above-average intent for reutilisation".
So after three exciting days at the trade fair, not only are happy BUWOG employees on their way back; they're also bringing a sparkling trophy award with them.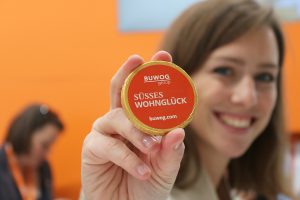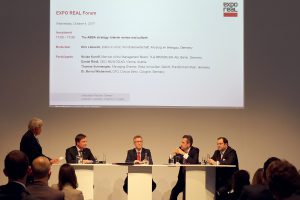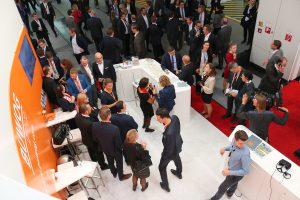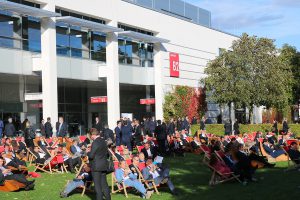 Fotocredit: BUWOG Group / Michael Divé