Neighbouring SKY6 project already fully placed
A major success for the BUWOG projects at Vienna Central Station! As director of the Austrian sales team, I am especially pleased to be able to begin my blog series in the new year by reporting a success.
The two BUWOG projects currently under construction at the new Vienna Central Station, SKYTOWER and SKY6, are already an especially big source of satisfaction for us in sales. SKY6, the smaller project with 44 units on Gombrichgasse, is already fully placed. Its big brother SKYTOWER, the distinctive residential tower with 127 residential units that extends up to the sky directly in front of the entrance to the train station, is about to do the same – we have just sold the 100th flat in SKYTOWER. Of the freehold flats that are still available for owner-occupiers and investors, there are still four available in the base of the project; the remainder are distributed across the upper floors.  But you have to be fast if you are still interested in a flat in SKYTOWER. Demand remains high. On average we have sold nearly 4 ½ flats per week at both Vienna Central Station projects. Sales began in June 2015. At this point I would like to congratulate and extend a big thank you to my team!
SKYTOWER was a flagship BUWOG Group project in the new urban development area around Vienna Central Station from the very outset. Even prior to the start of sales we really sensed we were on the right track with this project due to the positive resonance within the industry, the industry-related media and the international press.
Concerning the project, the German daily "Die Welt" wrote, for example: "Like the keel of a big cruise ship, SKYTOWER with its tapering, curved form next to Vienna Central Station extends up to the sky of this city on the Danube".
It was also very positive for us that with the SKY9 project, which was completed and fully placed in summer 2014, we were the first residential developer at Vienna Central Station in the privately financed segment. With this story of success behind us, we were already an expert for Vienna Central Station when launching our development project and sales activity for SKYTOWER and SKY6.
It was also exciting for me to witness the passion with which my team completed and handed over the Vienna Central Station projects before 30.4.2016 and how strongly everyone at BUWOG identified with these projects. Originally, just one of my employees was assigned to SKYTOWER; due to the enormous demand the SKYTOWER sales team has grown to as many as three persons. Up until the topping-out ceremony in November 2015 we had sold flats based on the plan; only afterward had the construction site progressed enough for us to be able to conduct visits. SKY6 and SKYTOWER also received even more support than previous projects from online campaigns, which our clients found especially appealing.
One particular highlight for both projects was also our "measuring day", on which we recently welcomed over 100 owners who took measurements for future furnishings in their flats using BUWOG tape measures. SKYTOWER also showed us at BUWOG that the willingness to live in modern residential towers in Vienna has risen enormously in the privately financed freehold segment. Highrise buildings with top fixtures and fittings in metropolitan areas have been the trend for some time; Vienna, too, is prepared for this development now, and with SKYTOWER we are pleased to have played a part in this exciting trend from the very start. It appeals to owner-occupiers and investors alike. The new construction and modernisation of railway stations, which is freeing up urgently needed residential space in central locations, can be viewed as positive as well. This was already impressively visible in Vienna at the Nordbahnhof railway station, where BUWOG had its "Vorgartenstraße" project, and is now continuing at Vienna Central Station.
The Vienna sales team is therefore pleased about BUWOG's new residential tower projects and about SKYTOWER's full placement soon.
All information on the project can be found under: http://skytower19.at/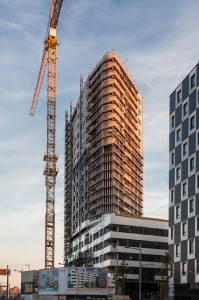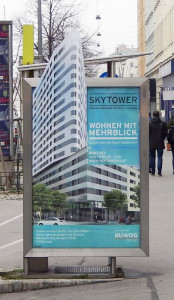 SKYTOWER under construction and the related Citylight advertising campaign