The variable weather at present is still making it hard to get in the mood for spring, but it's one more reason to start thinking about decoration and plant ideas to escape the everyday greyness, at least in thought. In this entry we've gathered a couple of suggestions to bring colour into your four walls now.
Spring awakening within your own four walls
The Christmas decorations have long been packed back into their boxes, but the dreariness of winter is still dominant in the rooms. For this reason it's time to begin thinking about how to decorate your flat for spring. Keeping with this theme, spring flowers are top priority, of course.
Snowdrops, crocus and pearl hyacinth especially awaken anticipation for warm days and add the right highlights to the decor. Because these plants tend to be small, they can be perfectly worked into a small bouquet and, for example, arranged in a tea service on the dining table or in the kitchen. A little tip: for a delicate small spring bouquet simply cut away the green and use only the blossoms. Whether for flowers or the various vessels that serve as a vase – there are no limits to your personal taste, of course.
Those who would still like a couple of ideas for typical spring flowers can gain a little inspiration from this list:
–       Lily of the valley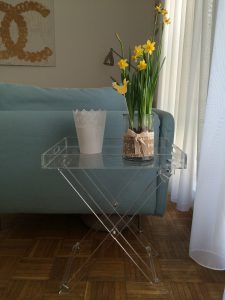 –       Magnolia
–       Tulips
–       Narcissus
–       Cyclamen
–       Freesia
–       Paperwhite
–       Spring snowflake
–       Anemone
–       Crocus
Spring awakening in the fresh air
Whether on the balcony or in a small garden – spring flowers emanate good spirits outdoors as well. But take care when purchasing plants: see to it that the ones desired are frost-resistant, as in March the temperatures in the night can still plummet considerably. It's less of a problem if there is a chance to bring the plants into somewhere warm overnight – with flower beds that's rather difficult.
As always, the highlights of the season are bulbs: pansies, primrose, snowflakes, scilla and daisies are an eyecatcher on every balcony or in the garden. A decoration you've assembled yourself also adds that certain something. For example, a colourful birdhouse for our feathered friends, which one's own kids can industriously help build as well.
Those already abuzz with their first ideas can gain even more inspiration in Pinterest! Something for every taste is guaranteed!
Spring decorations on Pinterest