As announced in my first article for my blog series "First Vienna Residential Market Report – Edition 2014" (see here), I would like to present a district and associated new building project again in this article.
The 7th district – "Neubau is different"
The 7th district is the cultural heart of Vienna. The so-called "cinema quarter" around Neubaugasse had originated already in the heyday of Austrian silent film. And today, too, this area is a melting pot of art and culture with numerous pubs and cafes, galleries, and many small shops.
The district has excellent transport connections, which is also benefited by the proximity to Vienna's Westbahnhof railway station.
Neubau has approx. 30,310 residents. At 24%, the share of non-Austrian citizens is slightly above average. The income of the residents is above the Vienna average.
A small overview of the figures is provided by the following charts, which can be clicked on for a more precise view: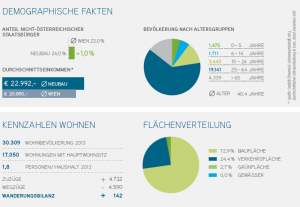 New BUWOG building project at Lindengasse 60 – "7CENTRAL"
As director of sales, allow me to present our exclusive residential project on Lindengasse 60, 1070 Vienna. I do so with a bit of pride, as 7CENTRAL is not an everyday BUWOG Group project.
At this location privately financed, high quality-furnished freehold flats have been built, for which sales are running at full speed!
The flats are between 54 and 180m² and all equipped with balconies, loggias or terraces.
I would especially like to call attention to the location of the flats at the corner of Lindengasse / Zieglergasse in the middle of Schottenfeld and in the heart of the 7th district. Close by, one can confidently make the most of the city's range of recreational, shopping and cultural opportunities without a car. The transport connections are simply fantastic. The U3, U6, 13A, 5 and 49 are just as easy to reach as the Westbahnhof railway station. Let's not forget the proximity to Mariahilfer Straße, which makes it possible to enjoy shopping right around the corner from home.
Details on all of the flats on Lindengasse can be found under:
http://www.buwog.at/projekt/7central/facts
To close, I would like to say that, for me, this district and our associated residential project stand out due to their urban flair. So I can only recommend that everyone take a Christmas walk through the enchanting 7th district to see for themselves.