BUWOG Group is a proud member of the FindMyHome Quality Estate Agents Programme and was awarded the quality seal for "Certified Quality Estate Agent" last year. In 2013 I was pleased to accept this award for the company and was delighted all the more to represent BUWOG again this year at the Quality Estate Agents Gala 2014.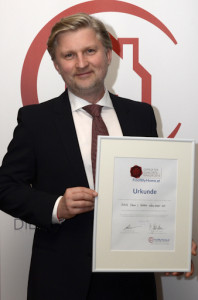 Who are Austria's best estate agents? Who do property seekers trust and who's received the best customer feedback in the internet? All of these questions have been answered at a major gala now for more than three years. This time the celebration of the top winners in the Austrian real estate industry took place at the Vienna Elysium.
The client decides In the Quality Estate Agent Programme it's the client who decides the company that's awarded. After an appointment with an estate agent, flat seekers can immediately submit their feedback concerning the agent's competence, friendliness and honesty, etc. on the FindMyHome.at platform – this feedback determines who can be called a "Certified Quality Estate Agent".
 
Client opinion very important for BUWOG Group
As director of sales in Austria I fully support this programme, as client opinion is very important for BUWOG Group in every area. We also carry out regular surveys among our existing tenants and owners. The information obtained on customer satisfaction is a reliable barometer of the efficiency of services and, consequently, a basis for its continuous evaluation. I'm convinced one can only improve one's work if the client is actively involved and given a say.
In the course of the gala I was one of several interview partners of the industry service Immoflash and highlighted BUWOG's position on the subject of quality in the interview. Have a look at the video with the interview here::
https://www.youtube.com/watch?feature=player_embedded&v=qiyUi-rmWnI
Quality Estate Agent Gala a 50's Style Celebration
Those who do good work have every reason to be happy about it, and extraordinary efforts should be rewarded and celebrated. I, too, share this conviction with the organisers of FindMyHome.at and for that reason am delighted about the first-rate Quality Estate Agent Gala, which featured an excellent entertainment programme again this year. The celebration was in the style of the 50's with the music of iconic rock 'n' roller Andy Lee Lang. I believe the gala will also be a permanent item on the event calendar of the Austrian real estate industry. For quality also counts with the celebration of one's achievements.