Berlin needs new living space. So far, so clear. But to prevent the loss of open green space in the process, urban consolidation is increasingly seen as an answer. A good example is the new construction project BUWOG XBERG LIVING in Berlin-Kreuzberg. Here a grey rear courtyard is gradually being turned into a green oasis.
Urban consolidation describes the policy of increasing the building density within established urban areas. Usually, this is achieved by adding height to existing buildings, as can be observed in many places throughout Berlin. As long as the structural engineering and overall design of an older building allow it, this involves adding a storey on top of the existing structure.
Densification without displacement
An even more elegant version of urban consolidation is, where appropriate, to build well-designed new housing in the courtyards of existing blocks. And Berlin has many such courtyards as great opportunities to create urban living space. This form of urban consolidation is also a good way to "repair" the city by restoring Berlin's typical courtyard buildings that in many places had been lost during the war. In this way, urban consolidation creates new residential space in places where the infrastructure has already been designed for it.
Land: a valuable resource
"Urban consolidation is a great way to preserve land resources, perhaps our most important resource in Berlin," says Juliane Holtmeyer, who is managing the BUWOG XBERG LIVING project in the heart of Berlin-Kreuzberg. In this hot spot near Hasenheide and Paul-Lincke-Ufer in the Graefekiez neighbourhood, the new construction project from BUWOG is a masterpiece in terms of urban consolidation, both architecturally and logistically.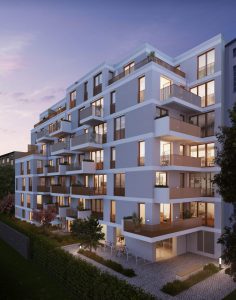 Starting in autumn 2019, a new building is being constructed behind the existing apartment house at Jahnstraße 15 with a total of 41 two- or three-room owner-occupied flats, all equipped with balcony or terrace. Even at the beginning of construction, the site logistics are something for experts: building materials, machinery and equipment must be manoeuvred through the narrow entranceway or lifted into the courtyard by crane over the existing building.
A car-free design
BUWOG XBERG LIVING – the name is as cosmopolitan as the neighbourhood, which, for many, is nothing less than "the real Berlin". Here people and their personal life plans come first – a philosophy made clear by the BUWOG XBERG LIVING concept. The project has a completely car-free design with a deliberate decision to do without underground parking. Following completion in 2021, the courtyard area will feature several different common areas and playgrounds.
Fans of good architecture will also be impressed by this rear courtyard building, says Project Manager Juliane Holtmeyer: "The many glass surfaces as well as the sophisticated design for the entrance give the architecture a friendly and open look. Top quality, broom-finished by hand, light shades of grey alternating with brightly contrasting bands – a successful and modern interpretation of traditional Berlin construction."
With its unmistakable architecture, the building rests in the middle of a skilfully landscaped courtyard.
Residential oasis meets happening neighbourhood – in the middle of Kreuzberg and without sacrificing any open space.
---
"Urban consolidation is a great way to preserve land resources, perhaps our most important resource in Berlin"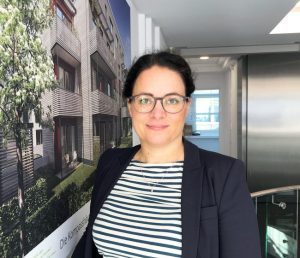 Juliane Holtmeyer, Project Manager, BUWOG XBERG LIVING
---
TIP: Sales started at the beginning of October 2019. Further information is available at www.xbergliving.de