Berlin's southeast is getting an architectural highlight on the banks of the Dahme: BUWOG THE VIEW is being constructed along the Grünau regatta course. Consisting of three buildings, the residential ensemble is part of the sustainable quarter 50° Nord.
---
Waterfront living
It stands for glimmering surfaces on the water, shimmering light and nothing but nature: From 2021 on the new landmark BUWOG THE VIEW will provide a clear view of the water. Distributed across the three buildings, BUWOG THE VIEW offers a total of 63 condominiums with a direct view of the water – the first reservations are now possible.
Building I and Building III based on plans by the architectural firm Pätzold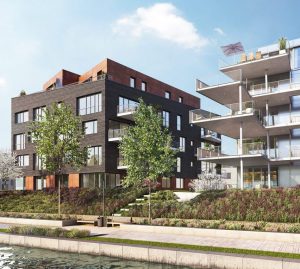 Buildings I and III were designed by the architectural firm PA GmbH Pätzold Architekten of Berlin.
The façades of wood and reddish Corten steel are reminiscent of ships' hulls. The 35 condominiums have two to four rooms and are 58 to 145 sqm.
Rosa-Maria Dirsch of Pätzold Architekten:
"The location on the water exudes a sense of peace and contemplation. The acute-angled edges of the buildings form the shape of a ship's bow. The theme of water sets the stylistic tone in the choice of façade materials: black varnished wood and reddish Corten steel.

The architecture pursues an overall ecological concept and sustainable use of building materials made of wooden panel elements with cellulose insulation. The varying materiality of the façades with wood and Corten steel differentiate the structures and lend them a playful lightness. The arrangement of the living areas at the corners of the buildings ensure that a variety of views – of the water and sunny side – can be had from all apartments."
Building II: the floating jetties by the architects from LOVE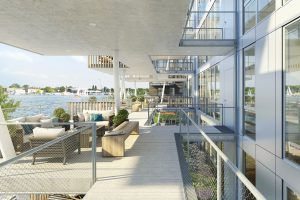 Centrally located Building II opens to the east and west with its façade of folding glass walls.
Large balconies and terraces facing the water are connected through optically floating jetties.
28 condominiums of 1.5 to 4 rooms and 64 to 128 sqm are being constructed in Building II.
The designs stem from the renowned architectural firm LOVE architecture and urbanism of Graz.
Herwig Kleinhapl of Love architecture and urbanism:
"The floating jetties impressively showcase the waterfront location. The system of jetties lend the individual apartments a proximity to water such that apartment and water appear to merge. The jetties represent perspective and relaxation – as well as community. One can say the jetty is the actual building and the soul of the structure.
Three materials shape the building visually: wood, aluminium and concrete. Wood represents security and sustainability. Aluminium is a practical, serious material that reflects the light and colours of the environment. Concrete completes the composition, lending it elegance and depth."
Here is our project film from on YouTube: