Perfect timing for the Berlinale – and yet an unusual event featuring a topping-out wreath rather than a red carpet: in Berlin-Weißensee BUWOG celebrated the topping out for the new construction project MAY & NIELSEN, thus recalling Berlin's history in film.
The unusual project name MAY & NIELSEN calls attention to two film legends who had their breakthrough in Berlin: Joe May and Asta Nielsen.
Joe May was born in Vienna in 1880 and was one of the most well-known Austrian film directors and producers. The pioneer of German film celebrated international screen success with cinema films such as "The Mistress of the World" (1919) and "The Indian Tomb" (1921).
Asta Nielsen, after whom the BUWOG project is also named, was born in Copenhagen in 1881. Beginning in 1910 the Danish actress advanced to become one of the most well-known silent film stars with films such as "Intoxication" (1919) and "Kürfürstendamm" (1920).
Residential property with a history in film
Film studios already existed in the 1910s and 1920s in Berlin's Weissensee district, including Joe May's glass studios, where elaborate historical epics and realistic dramas were created. In Weißensee, at that time known as "Little Hollywood", there were successful silent movie classics filmed such as "The Cabinet of Dr. Caligari", which is still commemorated today by a plaque in the city centre. 100 years ago today, the film city of Weißensee was the trendy gathering place for the scene.
Alexander Happ, managing director of BUWOG Bauträger GmbH: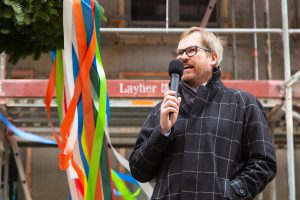 "With our MAY & NIELSEN project, we're erecting an architectural monument to the glamorous cinematic epochs of Berlin and resurrecting a neighbourhood that will soon be filled with new life."
Following a successful topping out, the work is now making good progress. 63 apartments will be built in the May & Nielsen project; completion is at the end of 2019.
More information
Find out more about MAY & NIELSEN on our project website.