The BUWOG Group's employees are not only high performers in their day-to-day work, but also quite active in sports, as is shown by an entire series of regular events in which BUWOG is represented with a formidable team.

Business Run in Vienna and Kiel

A permanent fixture on the sports calendar is the Wien Energie Business Run which this year 31 colleagues from BUWOG successfully managed a 4.1 km route with the finish line at Vienna's Ernst Happel Stadium. A total of more than 30,000 runners took part in the Business Run.

It's not just Vienna that has a Business Run and sports-enthusiastic participants from BUWOG. In Kiel, where the BUWOG Group has its biggest location in Germany, BUWOG competed as part of a track team in July 2017. There were a total of 3,000 runners in the Zippel's Läuferwelt Business Run organised in Kiel. The run encompasses 4.5 km and is set up as a circuit along the Kiellinie, Kiel's most prominent waterside promenade.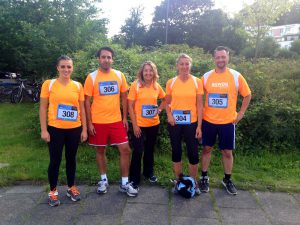 BUWOG's track team in Kiel
Berlin Relay & cycling to the EXPO

BUWOG's Berlin location has also demonstrated its prowess at sports from time to time. In 2015 and 2016 several BUWOG relay teams took part in the Berliner Wasserbetriebe TEAM relay competition. 5 x 5 km have to be completed in the relay. The route runs from the Berlin Zoo to the Federal Chancellery. This popular competition has around 30,000 participants.

Cycling is also popular in Berlin. In this and in past years our BUWOG colleagues have joined forces with other property experts and, for instance, have cycled 700 km from Berlin to Munich for the most important real estate trade fair, the EXPO REAL.

Dragon Boat Cup & Immo Race in Vienna

Meanwhile, two other unifying types of sports have become a must for the BUWOG Group: dragon-boating and go-karting.

In the beginning of June 2017 BUWOG took part once again in a dragon boat race at the Vienna Beach Club on the Neue Donau in Vienna. 20 colleagues from the BUWOG locations in Salzburg, Villach and Vienna successfully piloted a 12-metre-long Chinese dragon boat together. After just a one-hour training period the BUWOG team placed 16th out of a total of 38 teams, getting a chance to compete with veteran and experienced dragon boat participants.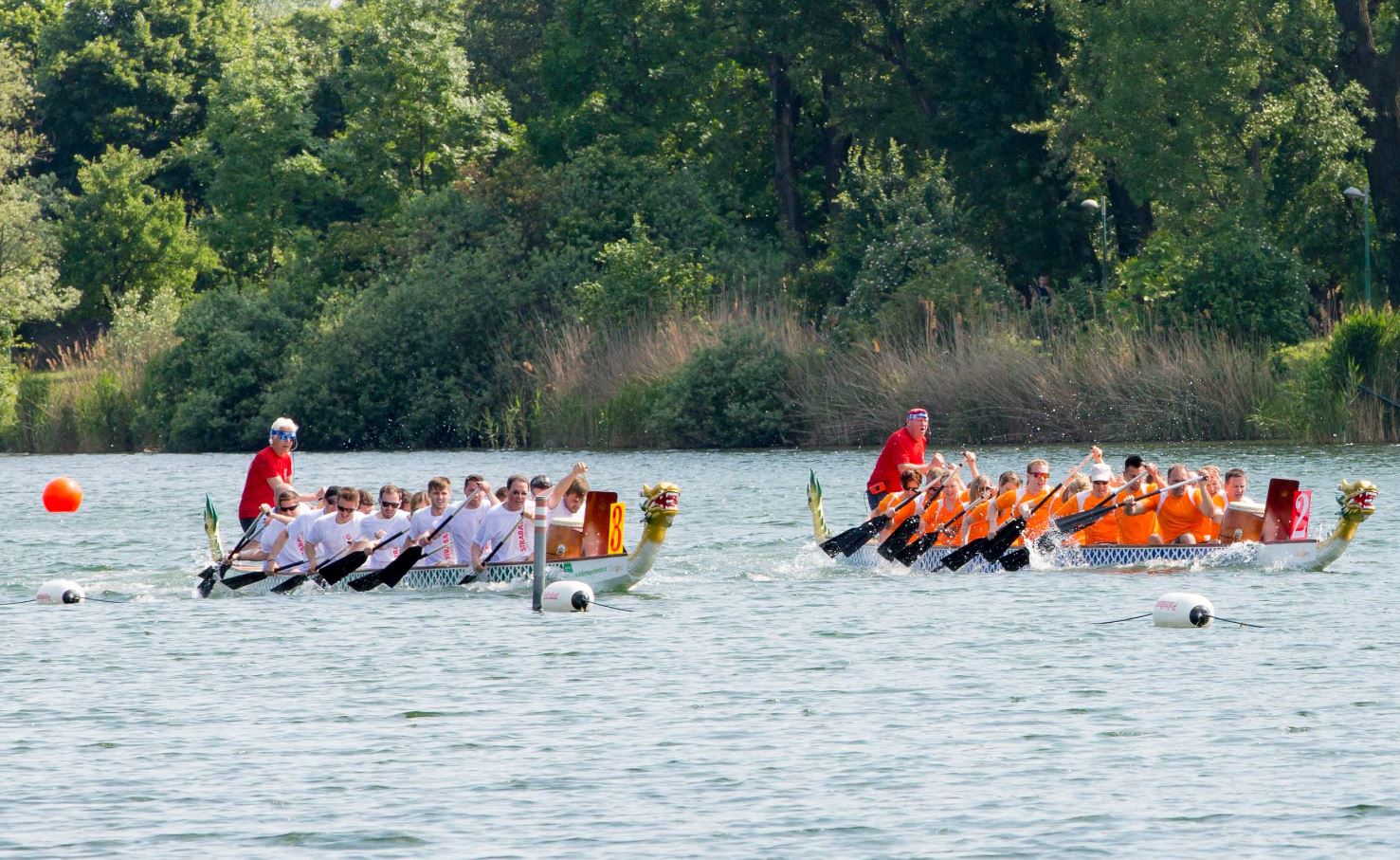 BUWOG in the Dragon Boat Race in 2017 and 2016

The pace picks up even more in the annual Immo Race, the race for Austria's real estate industry. After fourth place in 2015, in 2016 at the Daytona Raceways go-kart hall in Vienna-Langenzersdorf the BUWOG team made it to third place in the amateur ranking for the property industry. With ninth place 2017 was a slightly less successful year, but the focus was on fun and a sense of team cohesion.



Third place in the Immo Race 2016; Photos: IMMPULS Werbeagentur
BUWOG Süd regularly takes part in the national ski championships

BUWOG athletes also cut a good figure in winter sports, not just in summer competitions. Colleagues from BUWOG Süd at the Villach location are regular participants in the national ski championships organised by the Austrian Federation of Limited-Profit Housing Associations – or BUSCHI for short. While BUWOG is no longer a non-profit, it is permitted to participate in this traditional event as a guest. In 2017 a BUWOG colleague won third place in the guest class SKI in beautiful Zillertal; another won even second place.



Photos: Prefa
Regular sports activities at BUWOG
It's not just special sporting events in which the BUWOG Group's colleagues compete; there are also regular, to some extent self-organised meets in which sports are played together.

At the Kiel location, for instance, a running group has formed that meets once a week to run in a relaxed atmosphere of collegiality.

There is also a football team in Kiel that organised a football tournament with other real estate companies as part of their own major initiative in 2016.

In Vienna a group meets every second Thursday for the BUWOG football night, where mixed teams play in the hall of the Westside Soccer Arena in Vienna-Hütteldorf and in good weather on the small pitch outdoors. This BUWOG team has already taken part in a major real estate football tournament; more are to follow.



BUWOG football team in the STRABAG Cup and training in the hall

Health in the workplace

When listing the sports activities at BUWOG, the company's promotion of health should also be mentioned. The pilot project Fit with Maya was launched in 2017. Twice per day in an online tool a fitness trainer presents fitness exercises that can be copied directly at one's workstation.

At the initiative of the works council, BUWOG bicycles have been purchased that can be used for both shorter business trips and for joint excursions. An expert for bicycle health provided employees with an introduction on the subject of cycling to work.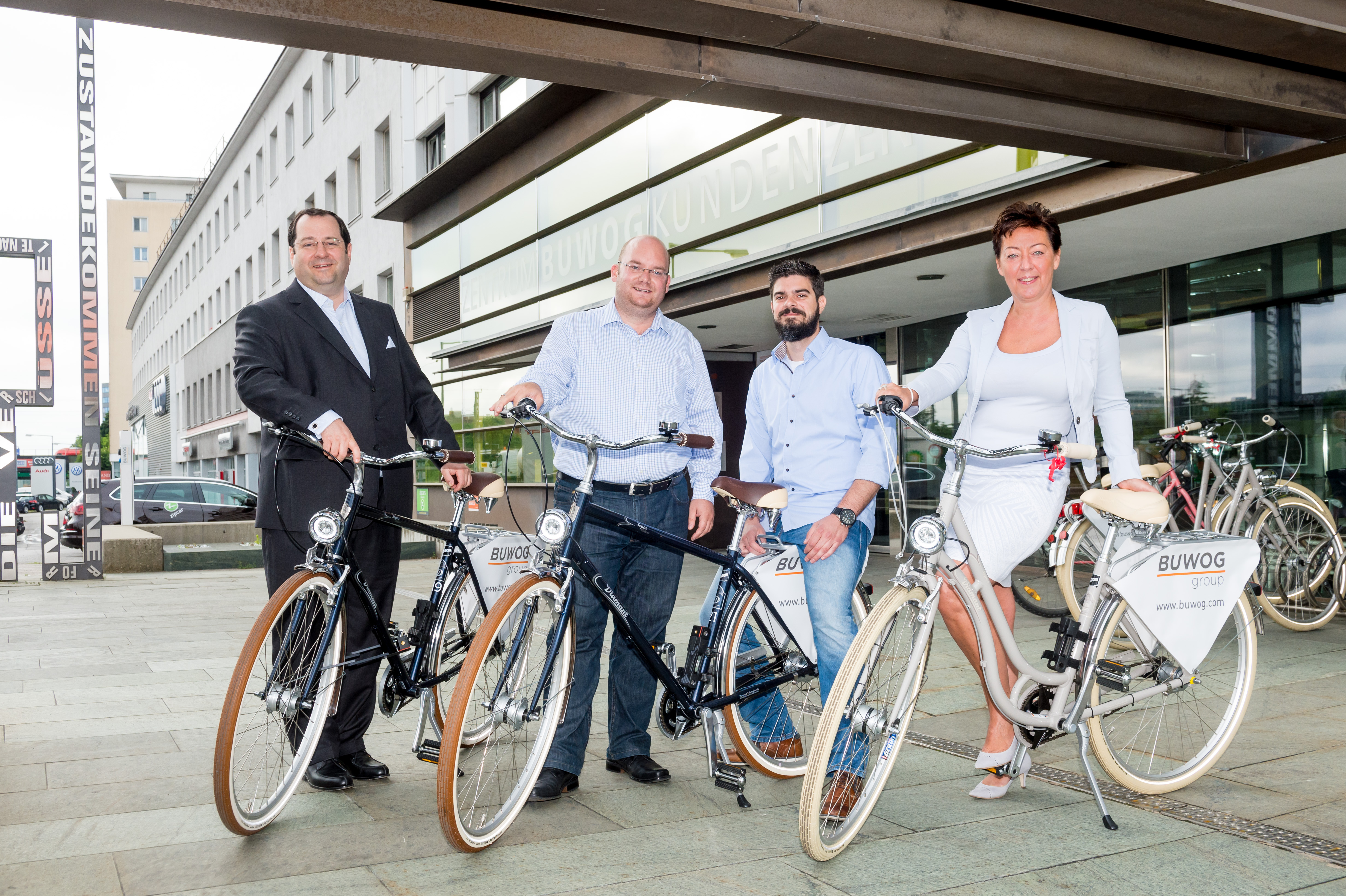 CEO Daniel Riedl, Markus Sperber and Raphael Lygnos of the Austrian works council, and Martina Wimmer, head of Human Resources Management & Office Management, present the BUWOG bicycles. Photo: August Lechner


Further Photos: BUWOG Group & Stephan Huger