Filming in a BUWOG Group neighbourhood is always something quite special. Whether "Tatort" wants to shoot in Charlottenburg or "Polizeiruf 110" in Neukölln: almost daily, television editors, film crews, photographers and commercial producers report to the BUWOG Group's press office asking for a film permit. Now there's a major project coming to the 52° Nord district in Berlin-Grünau: a dark Swedish crime thriller.
Studio Babelsberg is currently preparing an international feature film for SONY Pictures International: a crime thriller in a thematic sequel to the successful "The Girl with the Dragon Tattoo" trilogy by the late author Stieg Larsson. Location scout Klaus Große Darrelmann set out to find a special location for this Swedish crime show: a modern row of buildings in the middle of a construction site that still shows site fencing and building shells. With the BUWOG Group the film crew has found its preferred location: thus the 52° Nord neighbourhood in Berlin-Grünau is coming to the cinema.
The perfect setting for an exciting film
The project is quickly picking up pace: camera teams are examining the location, permits are being obtained and the residents informed. Klaus Große Darrelmann says: "We're shooting from 26 February to 2 March, and we're really looking forward to the days at 52° Nord. I've already met some of the residents and am thrilled. The neighbourhood is located in a beautiful residential area and the people are really fabulous in their support for us. "On 12 February at an information night at the advising centre at 52° Nord, the film team gave a precise explanation about how the filming is done and what that means for the residents.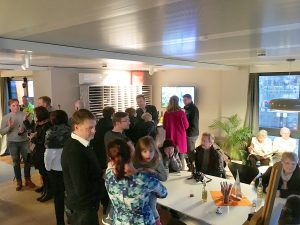 The film team consists of around 150 people who, however, won't all be on location at the same time. About 20 trucks will bring in equipment such as lights cameras, lifting platforms, props and much more. The perfect "Swedish look" is also planned, with number plates, door signs and other German labelling meticulously "Swedishised" in time for filming – temporarily, of course.
On the information evening there were tasty snacks and beverages from the modern burrito truck  – as is usual on the film set.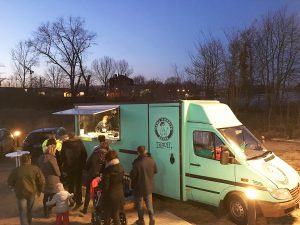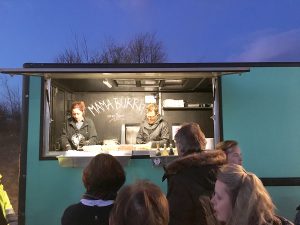 For many of the residents the information evening was also a welcome opportunity to get to know the neighbours better. After all, 52° Nord is a neighbourhood that's continually growing, apartment by apartment.
A little patience is required before "The Girl in the Spider's Web" comes to the cinema: the big day is in winter 2018!
Tip: interested in living in a neighbourhood that's "ready for Hollywood"? A new sales phase is beginning just now with "Haus an der Dahme".
So we're looking forward to exciting days of filming in Berlin-Grünau and wish all of those involved an cinema launch worthy of an Oscar.