In the last few months our trainees took advantage of BUWOG's offer to discuss professional challenges in project groups and to develop their own ideas about them. Our shared objective was to give our trainees an opportunity to meet a specific challenge besides day-to-day business at school and in the office and to take advantage of perspectives that are new and not preconceived, reflect on current ideas in their specific professional areas as well as to perhaps provide new inspiration.
Beginning at the start of July in Hamburg, a wide range of project groups at different locations and in diverse years of training took a critical look at a variety of questions.
The following specific issues were discussed:
Project group 1: "Employer branding"
Project group 2: "Management of the future"
Project group 3: "Real estate of the future"
Project group 4: "Departmental intranet presence"
BUWOG's young employees in Germany grappled with the issues in intense discussions over a period of nearly three months. They were supported by specialists and managers, who were helpful, particularly with the structure and organisation of the project work – and, by the way, voluntarily. They also provided substantive support with their range of experience and expertise, of course.
Those who began training on 1 August were immediately included in the projects, thus our "newcomers" were immediately able to truly immerse themselves in working life. One or two probably did not anticipate such a realistic experience in their training.
The groups then got to present their results to the Executive Board on 20 September, with Daniel Riedl (CEO), Andreas Segal (Deputy CEO & CFO) and Herwig Teufelsdorfer (COO) listening with interest to what our trainees prepared.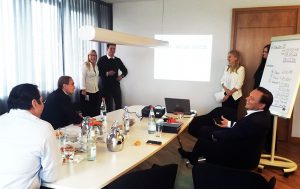 Fantastic presentations, fresh ideas and, above all, inspired and inspiring trainees left a lasting impression on the Executive Board members. And: not only are we going to hear about several ideas in day-to-day business; we'll continue to develop them.
All of the participants agree that this format is a positive exercise within the training programme and generates fantastic added value for the company and for that reason will be continued.
By the way: information on a career with the BUWOG Group and current vacancies can be found here.
Photo: the BUWOG Group