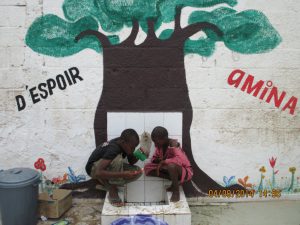 BUWOG, the BUWOG Works Council and BUWOG employees donated more than EUR 26,000 in total to an aid project in Senegal in December 2014. The Vienna-based organisation "AMINA", which is dedicated to helping people in need, is to facilitate the purchase of a piece of land in the city of Saint Louis on which a day centre for street children will be constructed. Mamadou Ndiaye, the project leader, visited the BUWOG head office in Vienna in July and brought good news: The planning permission for building on the purchased property has now finally been granted.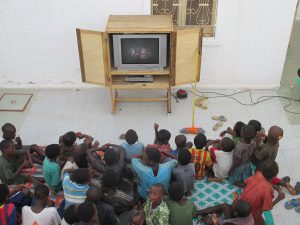 Currently the day centre, called Jardin d'Espoir (Garden of Hope), is accommodated in a rented house – an unsatisfactory solution, as the project leader explains. "The rent is expensive and we urgently need more space for recreational activities such as sport." In an owned property, one could also accommodate volunteer workers who come from Europe to Senegal. And Mamadou Ndiaye dreams of an apprentice workshop in which young people could receive training in basic technical skills. "The overriding aim is to improve the children's quality of life wherever we can."
Mamadou Ndiaye is a German language teacher and studied in Graz, among other places. He founded a day centre in Saint Louis, Senegal, for children and young people living on the streets in 2006. "The children come to the city from the countryside and beg for food on the streets – a dangerous life. In "Jardin d'Espoir" we give them food, we teach them to read and write, look after their medical needs and also help in terms of social work", he explains.
Alongside the project leader, the staff consists of two teachers, a nurse, two social workers, a housekeeper and a warden. "In addition to literacy, we also want to teach the children about basic hygiene."
On the same day as the project leader visited BUWOG in Vienna, he received an email with the news that the building permission had now, after a long administrative process, been granted. "We can now start with the construction. I hope that the house will be ready within three to six months." To cover the costs of the facility and the ongoing operational expenses, the "Garden of Hope" is dependent on further donations. (Please click here for further information or to donate.)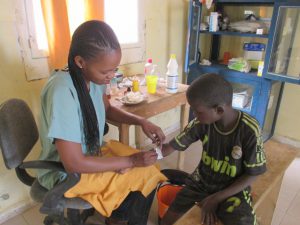 Saint Louis is situated at the mouth of the Senegal River, where it meets the Atlantic, and on the border to Mauritania. It was formed by French colonial rulers and is shaped to the present day by three main cultural influences: western French, Islamic and traditional African. Mamadou Ndiaye estimates that around 6,000 children live on the streets in Saint Louis. He and his team will be able to look after 100 of them regularly in the newly-built day centre.
By Sabrina Maria Traar