An interview with the project director of the BUWOG customer and administrative centre, Martina Wimmer
City Hall glistens in the sunlight, "Steffl", or St. Stephen's Cathedral, ascends into the cloudless sky with unmistakable elegance. One turn and we have before us the Palace of Justice and the monitory flak tower of the Stiftkaserne barracks. Another turn and the twin steeples of the Church of the Piarists appear, next to them the General Hospital's mighty double cubes and behind them the green outskirts of the city. We are in the midst of Vienna's colourful, imposing architectural landscape and on the rooftop of the new BUWOG customer and administrative centre at Rathausstraße 1. The new building blends assertively into the historic ensemble, yet it's an integral part of it. Here it's possible to take a deep breath, to reflect and to generate new perspectives.
What for the BUWOG staff is a modern, pleasant workplace and for current and potential customers a centrally located, friendly contact point is a passion for one person, in particular: Martina Wimmer has been a BUWOG employee for many years, having acquired an excellent reputation in the company as head of human resources, and as project manager of the new customer and administrative centre, she was involved in the planning and development of the new building from the very beginning. So who better to look back with on the origins of this special project and ahead with to the new location's future potential and possibilities!
In the following interview, Martina Wimmer talks about her varied and challenging work as a project manager, the lessons she has learned from it and what personally connects her to BUWOG.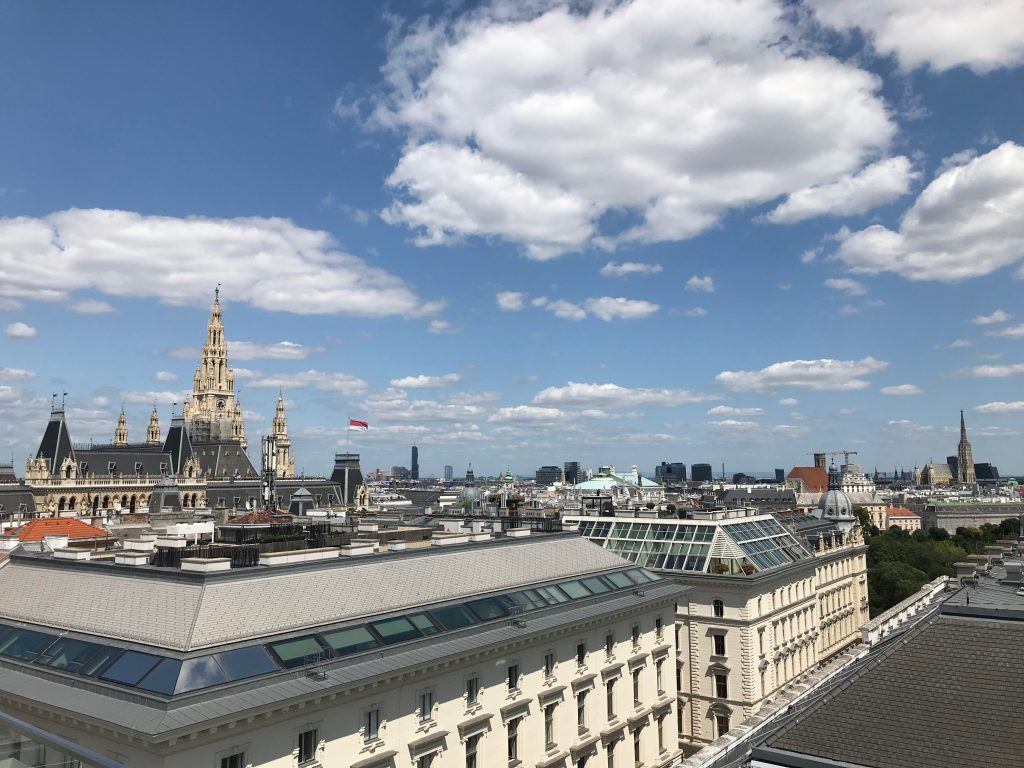 How did it come about that you took over project management for the new customer and administrative centre on Rathausstraße?
In my role as HR manager, I was always responsible for office management. I have moved or managed the conversions of the offices of every company I've worked for, including the relocation of IMMOFINANZ from the Gaudenzdorfer Gürtel to the Vienna Twin Towers. At that time, Daniel Riedl was already my principal and Atelier Heiss was the architectural firm for the interior, so it made sense that this well-established team would design the new BUWOG customer and administrative centre and manage this project.
What were initially the central motives behind the idea of a new office building and customer centre for BUWOG?
There were three important motives: for the BUWOG team, it was a major disadvantage to be divided into two buildings on the Hietzinger Kai. Internal communication can be improved enormously at a shared location and the sense of cohesiveness will certainly continue to grow. We also wanted to offer our customers a central and prestigious consulting and sales space that reflects our residential properties. And the third central motive: we wanted to create the best possible working conditions at present for employees in the real estate industry.
From the perspective of an experienced employee who's quite familiar with BUWOG: what other advantages do you think the new location will bring for the company and its employees?
For me, the new location is the beginning of a new, highly professional working environment. We are leaving the past and any inherited burdens behind at Hietzinger Kai and are moving into a successful future together with our current and potential customers.
In addition to the improved conditions for cooperation and communication, the comfort factor is many times higher than at the old location. This begins with the excellent transport connections and the diverse infrastructure in the immediate vicinity and extends to the layout featuring a large number of zones that are pleasant for communicating and gathering. All of this has a significant influence on the results of working together.
What was your job like as a project manager?
I think my most important functions were making and executing decisions, keeping the team together and ensuring communication. At the beginning we met every 14 days, then later every week for a jour fixe in which we went through all open points together. The decisions were protocolled, the open tasks were scheduled and carried out in a structured manner. At the same time, the budget was kept up to date and target/actual comparisons were made.
Recently, one of my colleagues told me that my most important role for him was not to lose sight of the vision and the project targets that we'd set for ourselves and to make sure all project members had a grasp of this and were clear about the latest status ("the story").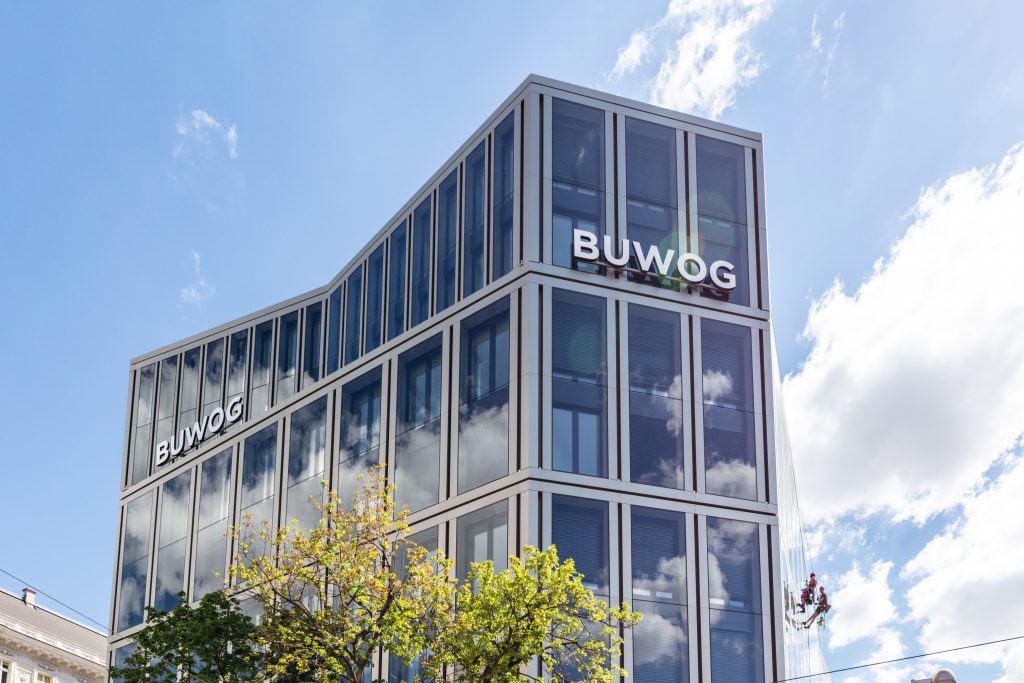 And what were the concrete areas of planning they weren't allowed to "lose sight of", as you say, over the last few years?
We were involved at a very early stage in the planning of the interior design. The first fundamental decision was whether we wanted a large space or smaller offices. We had a look at numerous examples and sought advice. In the end, we decided on the smaller offices with spacious common areas because we found that this combination would best meet the employees' wishes and needs while simultaneously offering a good number of options for modern interdepartmental cooperation. This decision, and the initial spatial planning related to this, was fundamental for development and construction.
Another consideration was what kind of appearance we wanted for the office, and it was very quickly clear to us that we wanted to transfer our theme of "happy living" to our office as well. All of the interior planning was aimed at creating a sense of comfort and security.
Of course, we then had to define the optimal furnishings for the individual employee offices and the common areas as well as their possible uses. Especially for the event room, it was important for us that a room be built in a central location for networking and discussions, e.g. for industry meetings and real estate congresses, as well as for our own various potential uses.
A major focus was also the planning of our bistro, whose full kitchen provides healthy food for our employees and offers space for 120 people.
I've lost track already just listening!
And that's by no means everything: another essential area is our customer zone, which we have clearly structured and planned taking into account the individual needs of current and potential customers. This also included a concept of use for the three lower-level floors and garages including access to our local supplier in the building.
The meticulous IT planning and numerous details such as printer zones, special furniture, cloakrooms, archives as well as coffee machines and kitchen equipment plus the sanitary facilities have to be mentioned as well. Up to that point I didn't know how many different appliances were required for the washroom and toilet facilities (laughs)! Planners and suppliers provided us with support for technical requirements such as lighting design and the room security and access system, not to mention the entire process planning for handovers, deliveries and installations. For this we relied on our partner, the company Conspeed.
We also had to think through all the processes of everyday office life: where are external persons allowed, which areas are reserved for employees, how does visitor management and the catering for the meeting and event zone work, what does the reception and security concept and the technical maintenance of this ultra-modern, complex office building look like?
Ultimately carried out in two days, the actual relocation was the least of the challenges. And I am very well aware how much work is involved in making a new office comfortable, unpacking everything, furnishing it and preparing it in such a way that the colleagues feel comfortable from the very first day.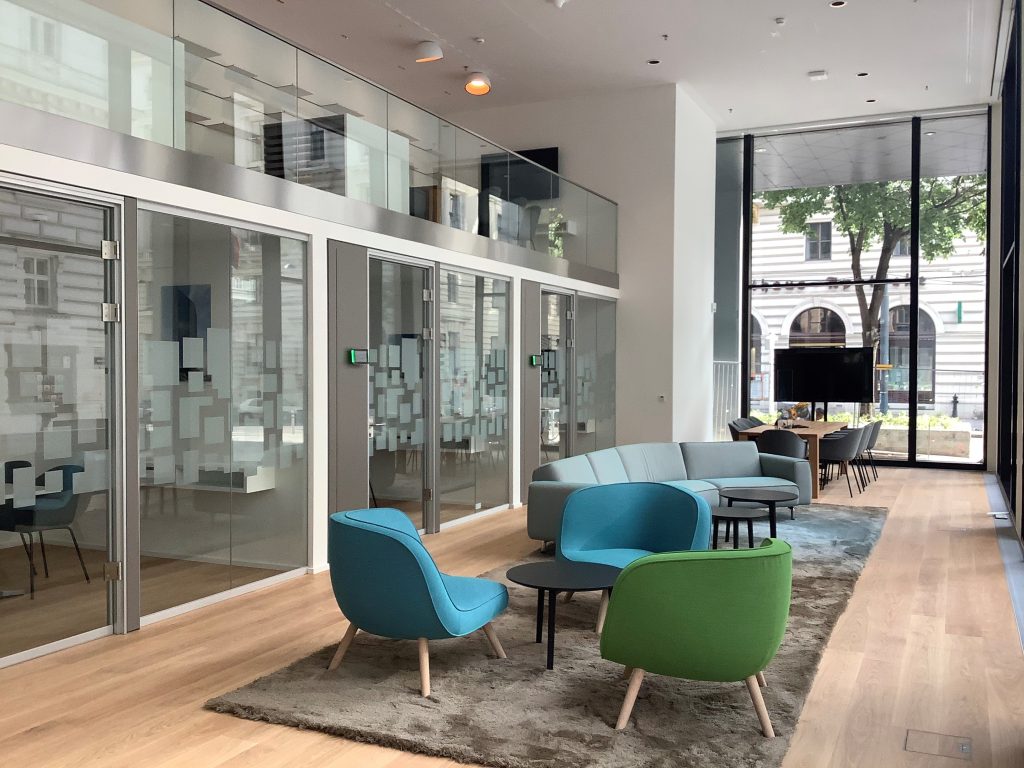 What were your biggest challenges in your time as project director?
My biggest challenge was my cancer – coupled with corona – which meant I had to work solely from a home office over the last six months. I was very sorry about that because I would have loved to pitch in until the end. But here, too, the conduct of the entire team was socially responsible to an incredible degree; they always kept me informed and involved. My colleagues sent me lots of photos of the construction site and without much ado, they simply took over the work I couldn't do from home. So for that a gigantic thank you to them!
What did you personally learn from a job with such a level of responsibility and from such a difficult, intensive time?
My most important insight is that you can do anything with a motivated and informed team. Using the strengths of each individual, balancing out the weaknesses in the background, giving everyone as much freedom as possible and listening to and including all opinions, addressing possible conflicts, providing clarity and decisions and trusting each other – then project work is fun and leads to excellent results.
Personally, this special project was an absolutely worthy conclusion to my corporate career and I will always be happy to think back on it – at least when I drive past Rathausstraße 1 (laughs)!
When you look back now at the end of your career and after the completion of this successful project, what's your conclusion: are you satisfied when you compare the initial aims of the project with the results?
I guess a simple "yes" won't cut it here (laughs). It was the biggest and most challenging project I've ever managed. And it was also the best project for me. On the one hand, this is because of the extremely appealing result – Rathausstraße 1 is a statement and not just a new office. On the other hand, it's because of this dream team! Never before have I experienced such a smooth and harmonious collaboration. Every member of the project team worked extremely professionally and always put the collective before the individual. There was ample discussion of budgets and variations of design and technical details, but – without exception – it was constructive and always aimed at reconciling every perspective. Everyone thought outside the box and selflessly contributed where necessary. And: we always had fun and laughed together.
Despite corona, we only had a four-week delay in the completion and relocation, we remained within the budget, and the most important thing is that the feedback from the principal, all the managing directors and the employees has been positive and overwhelming, without exception. I'm certain our current and potential customers will also be thrilled.
As a long-standing employee and insider, what connects you to BUWOG?
Enormous gratitude for the opportunity to be able to contribute and implement ideas independently and with a great deal of freedom in this protected and appreciative environment. I'm connected with a large number of colleagues much more than through the usual cooperation, and I hope we will maintain these friendships for considerable time to come. I would also like to thank Mr. Riedl for his trust and for the generous funds he made available for this project. He was always available for us and was quick in his decision-making. And he even helped with the relocation!
What do you feel when you enter the brand new customer and administrative centre today?
I'm overwhelmed. To see all our ideas implemented so harmoniously… it's just fantastic! It's not ostentatious, but it's very elegant, a workplace that still offers a sense of security and comfort. State-of-the-art in terms of technology and equipment, and at the same time you get a sense of the decades of BUWOG's spirit and experience. To sum it up: I'm incredibly proud of this project team and Rathausstrasse 1, and if the spirit that has accompanied our project team for the last three years were to spread to the staff, that would be our greatest gift. Then the work would truly be worth it!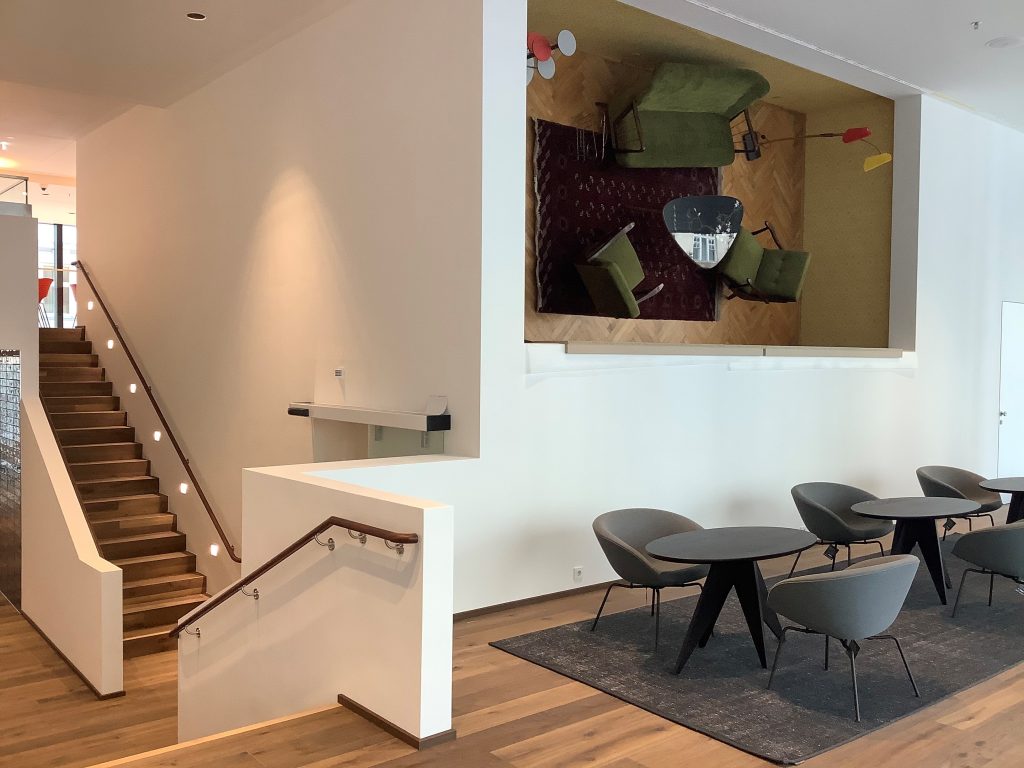 The BUWOG team behind the Rathausstraße 1 project
D. Riedl: Principal
M. Wimmer: Project management
H. Spann / P. Schiel: Deputy project management
C. Sieger, deputy C. Lang: Project management for development
M. Trnka: Procurement
I. Fitzek-Unterberger: CI, Communication
G. Reinelt, F. Ronaghi: IT
M. Sperber: Restaurant / Employee interests
Chr. Schmidtberger: Asset manager
And the relocation managers and numerous assistants from every department