What family-friendliness means at BUWOG
Family-friendliness at the company is more than just a slogan! If we want to actively tend to the concerns of our own employees and continually work at remaining attractive as an employer, objectives the BUWOG Group has set for itself, then it's also worthwhile to provide the families a glimpse into the working life of our employees.
Our employees spend a lot of time in the company, identify with our projects and client-orientation in practice, and sometimes that also means working a little longer. That's certainly family time that the family misses out on and for that reason we would like to extend our thanks at least 1x/year for the understanding provided. At the same time, we want to give the families and, first and foremost, our employees' kids insight into professional life early on and, specifically, into the BUWOG Group's business model and projects. Our executive board members as well as managing directors and department heads have generated plenty of enthusiasm with their child-friendly presentations at every location. The kids simply find exciting going to where mom and dad work every day, who their colleagues are and what they actually do there. For partners and relatives it also generates greater understanding for the respective profession and the numerous different tasks within our company.
To remain creative and stay on the ball in matters of family-friendliness, we've decided to join the Austrian Federal Ministry of Families and Youth (BMFJ) network "Companies for Families" in order to strengthen the exchange of ideas and promotion of compatibility between career and family even further.
Have a look at the BUWOG Group's appearance here on the "Companies for Families" website (in German).
Family Day – the families of BUWOG Group employees get to know our company
Shortly before Christmas we organised the BUWOG Family Day at the Vienna, Villach, Berlin and Kiel company locations. The initiative was very successful at every subsidiary, with numerous kids, partners, families and friends accepting the invitation. The feedback after the events was also thoroughly positive.
Besides tours through every department, there were entertaining and child-friendly talks about BUWOG and activities for the little ones. In Kiel, for instance, Thorsten Gleitz, head of property management, even managed to comprehensibly explain such difficult subjects as the "stock market" to the kids – with the help of drawings by his own children. For Daniel Riedl, CEO of the BUWOG Group, it was also important to be there in person for Family Days and to get to know the families of employees.
An arts-and-crafts and make-up corner for the small guests and hot-mulled wine and other delicacies for the grown-ups were also quite popular.
As Family Day was scheduled in Berlin and Kiel right on 6 December, St. Nicholas turned up at both locations, of course, and there were presents for the many kids in attendance.
In Berlin the Deputy CEO and CFO, Andreas Segal, welcomed the families and provided insight into our everyday professional life.
We in Human Resources are very pleased our board members not only make this type of event possible, but also make a personal effort. Thus family-friendliness is not just a slogan, but carried out in practice.
We're already looking forward to the next Family Day in 2017!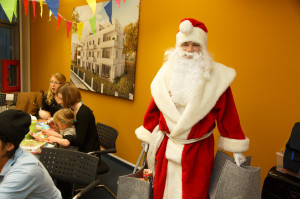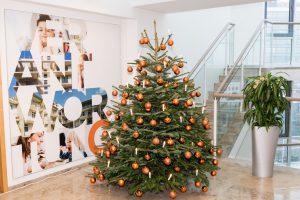 St. Nicholas in Berlin, Christmas tree in Kiel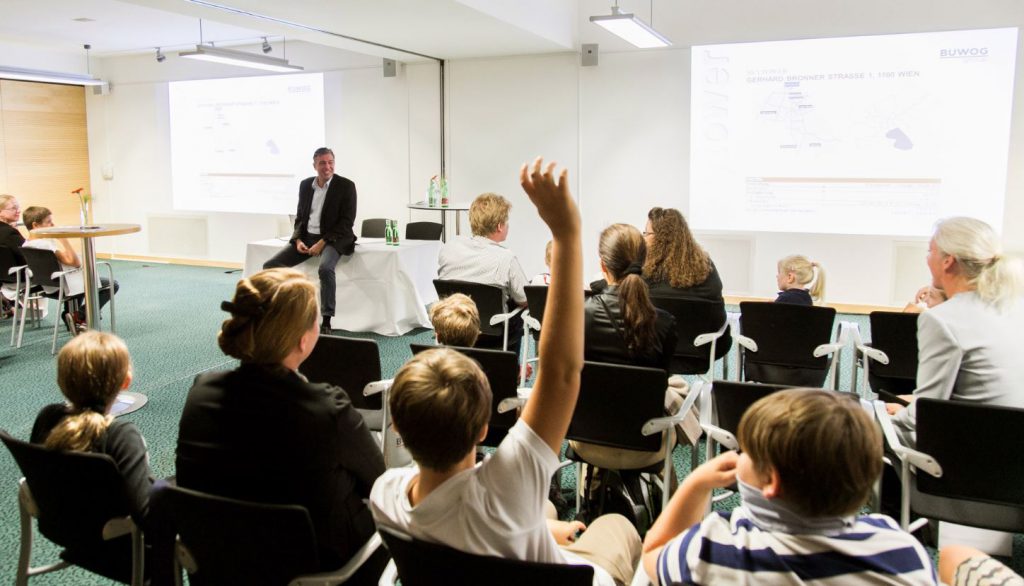 The kids asked a lot of questions about BUWOG
Photos: Fabian Frühling, Claudia Hechtenberg, Arman Rastegar