From 23 to 25 October, a group of twelve BUWOG employees from Germany and Austria travelled to Copenhagen and Malmö. The goal: to explore pioneering local projects. A personal retrospective by Michael Fesselmann.
What can Berlin and Vienna learn from Copenhagen? Some convinced big city types from Berlin and Vienna might answer "nothing". Now Berlin and Vienna are certainly exceptional in many regards when it comes to culture, architecture and lifestyle. However, the fact that Copenhagen and Malmö have impressive architecture and an equally exciting lifestyle to offer succeeded in convincing twelve BUWOG Group managers. Together with CEO Daniel Riedl they set off on a multifaceted architectural journey to the north.
Day 1 – Copenhagen
We meet Bo Christiansen – member of the Danish architecture association "AA". He has lived and worked in Copenhagen for 30 years and knows the city very well. He reveals to us that 42 percent of Copenhagen residents ride their bikes to work – a fact that impresses me as a passionate cyclist. At the same time, Copenhagen residents are not that much more health conscious than others at all; it's just that the commutes to work are much shorter. That's because the city has provided for the appropriate infrastructure – bike paths that lead in a star shape to the centre, bike stations that provide air pumps and repairs, and, amazingly, space-saving storage options.
After that we travel in rough weather by boat through the inner harbour of northern Copenhagen. Architecturally interesting residential buildings line the shore, none resembling the other. They outdo one another in modernity and richness of detail and are inspiring to every lover of architecture. A converted silo with 17 floors and floor heights of up to seven metres, narrow, colourful city houses with boat launches and apartments with waterfront views. They are staggered in such a way that the row to the rear can still see the water.
Students get to enjoy the waterfront as well: one of Denmark's most famous architectural firms, BIG, converted old containers into student apartments: small, comfortable, perfect.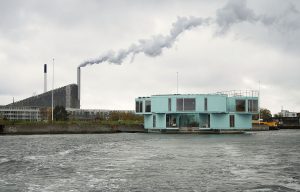 After lunch we meet the creative makers from "By & Havn". This organisation was instrumental in redesigning the port of Copenhagen. Here we get first-hand insight into how the northern port of today emerged. The largely disused port has only two landings for cruise ships. What was once defined by industry is today a vital residential and recreational area available at all hours, which even has a beach section popular with locals and tourists.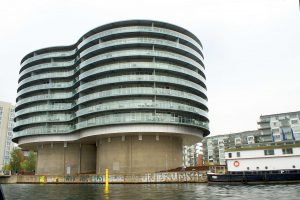 Day 2 – Malmö
Across the Öresund Bridge it's off to Sweden. Malmö is a city that straddles tradition and modernity. The 190-metre "Turning Torso" is particularly memorable and, with 54 floors, Scandinavia's tallest skyscraper. The residential area is arranged in various styles around the Turning Torso. Everyone and everything lives with the water – colourful quarters and terraced houses are located directly on the water. It is homey, comfortable, yet modern.
During the visit afterward to the Form Design Center, we discover arts and crafts, industrial design and the artistic projection "Balancing Acts" – a challenge for our sense of space.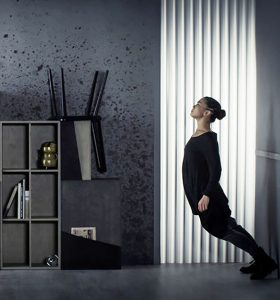 An architectural highlight is undoubtedly the Malmö Concert Hall with its appealing design, which is both functional and well-conceived down to the last detail, and offers particularly good acoustics.
Day 3 – Visit to the architects at BIG
Around 220 employees from over 20 countries work for BIG, whose headquarters resembles a modern industrial loft. In addition to projects in Copenhagen such as the 8-House, BIG is also building marvellous projects in Shanghai and New York. With 476 residential units and 10,000 m² for commercial purposes, one of the projects in Copenhagen extends across different levels like a small village. Interior paths lead "uphill" to the highest-lying apartments, often providing spectacular visual axes and views of the nature reserve near the airport located directly adjacent.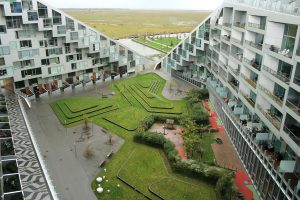 The residential complex "VM Mountain" with its gradual terraces is spectacular. Curious: The lift is like a cable car, which leads diagonally up the mountain.
The VM Houses, also by BIG, are impressive with their tapered balconies and are the architectural highlight in the newly developed Orestad district.
To conclude, we visit the Tietgen student dormitory. The architecture is inspired by the traditional Chinese "Tulou roundhouses" – village communities with a combination of individual apartments and community facilities. Built by a foundation, the ensemble is highly popular, thus interested tenants now have to apply with ideas for contributing to the community. A thoroughly challenging project.
After three eventful days, the BUWOG colleagues returned to Germany and Austria. What they took with them: numerous ideas and thrilling impressions of the architecture of the far north.