In our series "BUWOG, up close and personal", we introduce people who are working on current BUWOG projects and on issues that pertain to the future. They are all united by the aim of bringing BUWOG's slogan of "happy living" to life. This time in our series we talk with Marc Seelmann, who is head of the planning department at BUWOG Bauträger GmbH in Hanau.
Mr Seelmann, what is your responsibility at BUWOG?
Marc Seelmann: "My department handles all planning responsibilities in accordance with the standard architectural service profile in service phases one through five. This makes us an internal reproduction of an external construction planning office, as BUWOG generally commissions its projects elsewhere. In my position, I'm the main contact for assigning new planning tasks, forwarding them to the planning teams I've assembled and, of course, I'm basically the nexus between management, the group and my team. In the department, we're accustomed to developing buildings that are as individual as possible, yet still economically efficient and with distinctive architectural features and, as a result, that make us stand out from the architecture of other developers. That's a balancing act. When I look at the completed and latest new construction projects, I can say that BUWOG has this well under control."
How did you come to your current position, and what training and skills are needed to fill it?
"I studied architecture in Darmstadt and then worked for a ten years in various architectural firms. At some point I started to get annoyed by the fact that, as a planning office, you have considerable uncertainty due to your dependence on external commissions and especially due to the whims of the client. In 2008 in an architectural journal, I came across an advertisement from my last employer of many years, a property developer with its own planning department, where I was attracted by the chance to further develop the themes of architecture and design. At the same time, though, I was looking for, well – to put it a bit casually – a kick in the rear! In other words, I was seeking a certain financial stability of the company and independence from shaky planning contracts. From then on, it certainly helped that my former boss had a soft spot for handcraftsmanship, such as drawing and creativity, which have been my passion since childhood! Eleven years ago, I was finally allowed to take over management of the department, which had grown considerably.
As head of the planning department, you don't necessarily have to be good at drawing, but in my case it was probably a door opener. You also have to be technically sound – i.e. in terms of technical basics and the fundamentals of building legislation, and you have to be disciplined and precise. In the old company I was a kind of 'players' coach', because I still worked here and there on the projects and did one or two preliminary designs myself. With the takeover of the company and integration into BUWOG, we are now part of a large group, which has numerous advantages. With the new structure, the tasks have also evolved. I delegate even more than before…and that's a good thing because you only learn by doing! Of course, you have to have the ability and intuition to delegate work to the right people in the department, to maintain team spirit, to keep in touch with the other departments and to be able to communicate seriously."
You've already alluded to it: your path to BUWOG is indeed special. Your former employer, an owner-managed property developer, was taken over by BUWOG. How did you experience this – professionally and personally?
"I had always expected that a takeover would come sooner or later, but then it all happened quite quickly. In the end, the dynamics of the process surprised me. It was clear to me that I wouldn't make a hasty decision but would approach the new situation with an open mind and consciously place my trust in the constellation. So far, there's been no disappointment. I think we were extraordinarily well received and warmly welcomed with the takeover and integration into BUWOG. I don't think that can be taken for granted. The changes are significant, of course: the weight of  daily responsibilities has shifted, in some cases considerably. The approach in a corporate group also varies from that of a small independent property developer, of course. The way of thinking is based on logic and reason and thus reflects my objective, technical nature as an engineer. But on the whole it's just different – not necessarily better in every respect at every time, but we're working on that…" (laughs).
What are the typical responsibilities in your area?
"We deal a lot with the development potential for possible new sites. This encompasses the technical aspects and planning law as well as the creative aspects. The roll of drawing paper is never far from me. With or without digitalisation – the first ideas are born on paper! I really appreciate this creative work as a balance to the many organisational tasks that my role also entails.
To put it simply, as an architect for a property developer, you're always responsible for accommodating maximum residential space on the site as cleverly as possible and in such a way that the new development is not only compatible with regard to traffic, the environment and the social structure of the surrounding area, but also offers added value. Visually, too, a new building project must ultimately blend in harmoniously. As the planning department, we provide the planning documents for the government offices, the tender and for the construction site and, of course, the basis for sale or leasing. From smaller apartment buildings to larger developments, over the years, we've developed quite a bit here from our Hanau location, all of which I enjoy looking at."
What are the challenges and opportunities in your area of activity?
"As an architect, you plan and design something that is seen by many, that can leave a lasting mark on the environment and surroundings, and indeed on an entire city. Ideally, something is created that positively influences the residents and the environment and makes them happy. That's enormously appealing, but it's also an enormous responsibility, which is inherent in this profession. I think buildings can and should also be beautiful, beyond their pure utility value and efficiency. In the history of architecture, this idea gave rise to the term Baukünstler – or, directly translated, a "construction artist". This term should be reflected upon from time to time, even if it's often ridiculed in today's context of the more complex professional profile of the architect. The day-to-day work of the planning department of a property developer seeks to fulfil aesthetic demands as a Baukünstler and, on the other hand, to combine the typical economic parameters in the design and construction of the building or development from the very beginning. This is achieved, for example, through constructive optimisation, so that in the end a project also generates a positive business result. As a planning department, we benefit from our many years of experience: we often know at a very early stage which details or design ideas can be built in such a way that they remain within the cost framework.
An internal planning department provides the opportunity to be available at any time and to start immediately. Lengthy tendering processes, fee negotiations or commissions, which are necessary with external architects, for example, are no longer necessary. We can deliver first drafts and sketches quickly. This steps up the pace of the overall process enormously. Changing over to the plan and project management platform "Thinkproject", our plan distribution and organisation can become even more efficient and structured in the future."
What do you think – what will our housing look like in the future?
"I don't think average tastes and housing needs will change that much. Sure, there are fashions or social changes that bring about new housing forms or typologies. The situation with the coronavirus is also changing the view of one's own home: people want more space, a small home office or a work niche, and an extra half room or separable areas are becoming more important. The majority, however, are simply looking for an apartment or home with a good, efficient floor plan in the desired location – and at somehow affordable prices when renting or buying. If you look at the development of floor plans over the last 100 years, you'll see that not much has changed in a century, apart from room heights and a shift or two in the size ratio of one room to another. Factors such as location, quality of life and surroundings, on the other hand, are becoming increasingly important. I expect big advances in the areas of building technology, digitalisation, efficiency and sustainability, even if looking solely at how technical amenities and the choice of materials relate to the CO2 footprint and recyclability as well as, of course, current consumption values. The real estate industry has a very important opportunity for leverage to become even more sustainable. A building will perhaps be a computer at some point – but it won't tell us what to do!"
Happy living: What does BUWOG's slogan mean for you quite personally?
"As the architect of a company with this slogan, you naturally want to create a basis for future occupants to feel truly comfortable. The majority of people only make the decision to buy a property once in a lifetime, so everything has to be right! For us in the department, happy living means tweaking the floor plan until it fits as perfectly as a tailor-made suit! Happy living means that people enjoy being at home. In my own apartment there is a picture on the wall with the saying: "The best journey always takes us home" – that's what it's about!"
"As a planning department, we benefit from our many years of experience: we often know at a very early stage which details or design ideas can be built in such a way that they remain within the cost framework."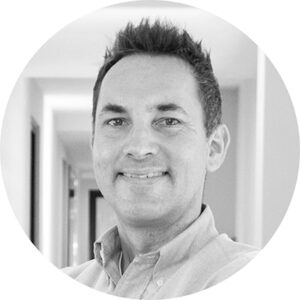 ---
Profile
Studies: Architecture at the Technical University Darmstadt
Degree: Engineering
Years in career: 22
Hobbies: Tennis (active), football (passive), la famiglia
---
Favourite quote: 
"Logic will get you from A to B; imagination will get you everywhere."
Albert Einstein